The volume of raw dry bulk material handling processes in the bulk solid industries has increased in recent decades. These raw dry bulk materials can be transported in big bags in a variety of methods from one site to another. The emptying of these bags necessitates the use of bulk discharge systems with components tailored to a specific application. It's also worth noting that these big bag discharge systems must meet a wide range of requirements and be able to operate in a variety of situations, such as with big bags of varying sizes.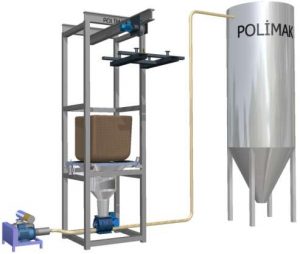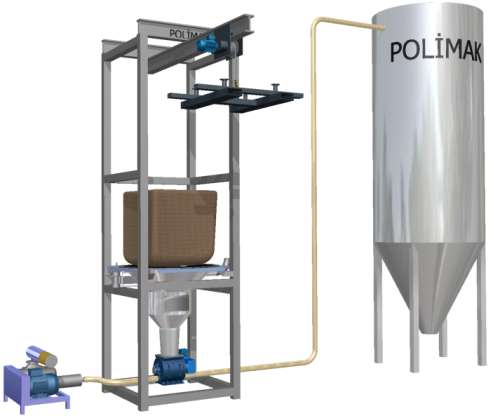 Polimak spearheads the production of such systems for effective and safe unloading of big bags (FIBC – Flexible Intermediate Bulk Container). We manufacture versatile and efficient units of bulk bag discharging systems used for the ideal discharging of bulk bags.
During the operation of the big bag discharging system with the hoist-trolley, the bulk bag is lifted by the lifting bracket through the bag's lifting straps. With the help of a hoist that moves horizontally along the I-shaped cantilevered monorail, the bag is transferred from its initial location to the required position. The bag is lowered towards the hopper once it has reached the desired position. The following procedure is performed, depending on the hopper and bag design. After the placement of the bulk bag on the hopper, the operator opens the access door and pulls and clamps the spout, which is then untied to allow material flow. During the unloading of the big bag, the access door is closed. The spout is unclamped and the bag is moved for refilling after the loading is complete.
The top big bag discharging system, the big bag discharger upper frame with big bag hanging system, the big bag discharging system with hoist-trolley, and other bulk bag discharging systems are all produced by Polimak. Slide gates or iris gates for bulk material metering, as well as the hopper access door for increased operator safety and less dusting, are some of the alternatives offered. The aforementioned features make the bulk bag discharging equipment simple to use and maintain. The following process connections may exist in the discharging system(s).
Direct discharge into intermediate containers.
Elevated/inclined screw conveyor.
Pneumatic conveying line.
Our big bag discharging systems offer the following advantages.
Clean and safe working environment.
Wide range of applications.
Dust-free operation.
Easy maintenance.
Kindly visit the link below for more information