Custom designed rotary valves delivered in short time
Rotary valves are preferred in many processes such as food and chemical processing, pharmaceutical and plastics manufacturing, dosage control, mixing, batching, and many others to ensure continuous control or regulated function.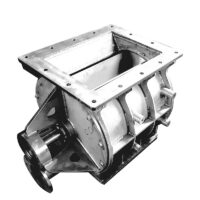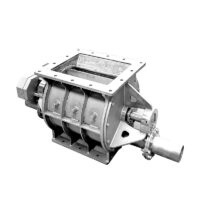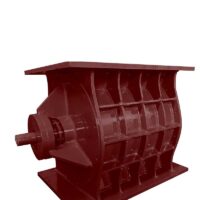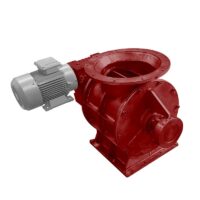 Rotary valves can be utilized with almost every dry bulk material in powder or granular form. It is used in various bulk solid industries such as food, cement, iron, steel, agriculture, chemicals, plastics etc., for different industrial applications. Each procedure, however, is distinct and should be handled with care. Along with guaranteeing minimal loss of air pressure at the beginning or finish of pneumatic conveying lines, rotary valves are utilized for supplying volumetric and gravimetric feeding for continuous mixing and streaming solutions.
Cement, fly ash, mining minerals, calcium carbonate, pvc, plastic pellets, plastic powders, polyethylene, ceramic powders, alumina, bentonite, bauxite, coal, cement clinker, gypsum, perlite, kaolin, limestone, marble powder, soda ash, quartz, urea, sodium sulphate, wheat, flour, animal feed, seed, corn, rice, sugar and salt, are examples of bulk solid materials that can be handled using a rotary valve.
Each successful application is a result of good observation of the dry bulk material to be handled and experience on difficulties and challenges of that specific process. Some applications might require large diameters, unique inlet-outlet flanges, heavy-duty housing, non-standard dimensions, reduced rotor volume, special flange connections, non-standard body designs and special accessories or some customers might ask for replacement of a discontinued brand/model or total cast iron or steel construction models.
Problem formulation, conception, design, validation, manufacture, and installation are all part of custom engineered production. Polimak engineers efficiently complete these procedures and provide custom engineered solutions in a timely manner.
Polimak's rotary valves are available in a variety of configurations to meet the needs of a wide range of industrial processes. Selecting the right type, design and every single component configurable to meet the specific requirements of applications requires great knowledge. Polimak has over 40 years of experience in the bulk industry and is ready to help you with your applications.
Kindly visit the link below for more information.