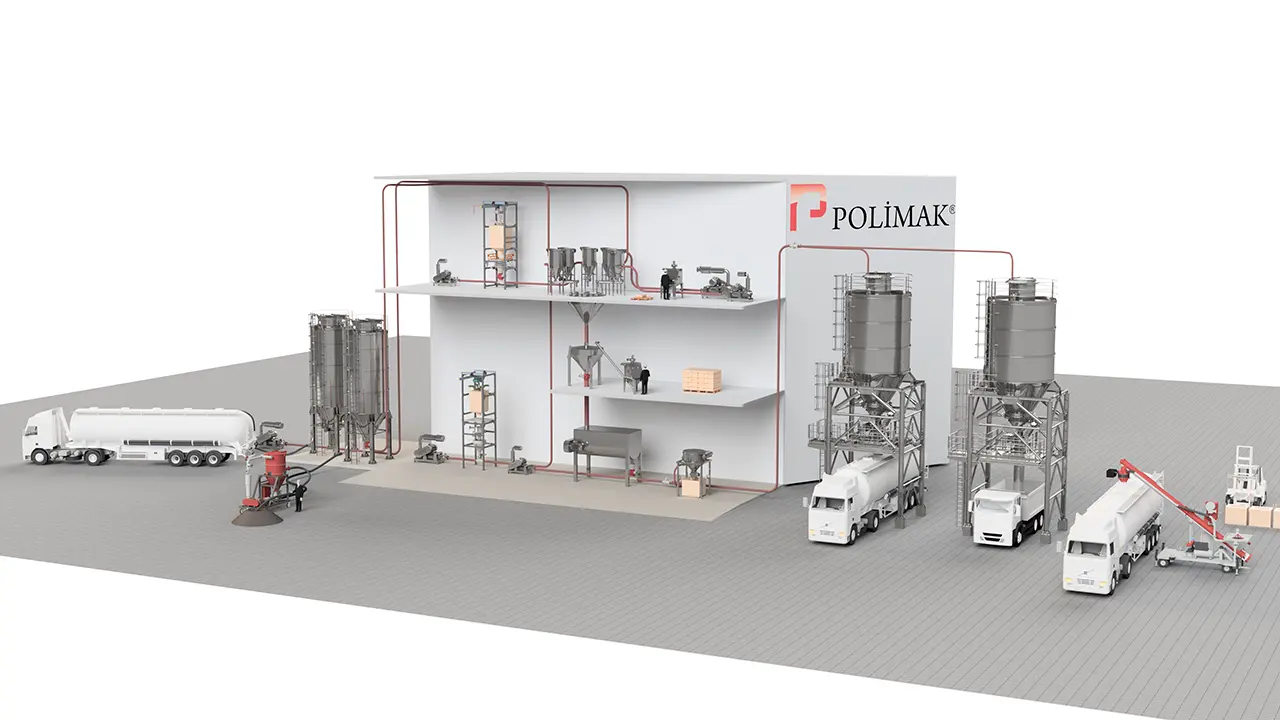 A bulk material handling system is required in any process that necessitates bulk material processing. Bulk material handling systems produced by Polimak are designed to the specific requirements of each industrial application. This ensures the deliverance of state of art solutions for the toughest challenges. Our bulk material handling systems' fundamental role is to efficiently store, transport, feed and supply bulk solids to processing units whenever needed.
The ability to provide expert solutions to a wide range of industries derives from a team of experts who have many years of experience in the design, production and installation of bulk material handling systems. Each phase of a bulk material handling project is critical to achieving desired performance and required safety. Our team of highly experienced engineers provide industrial solutions designed for safety and reliable performance. There exist several aspects that affect system design and each of these aspects should be considered carefully to achieve an efficient bulk material handling solution. Physical and chemical properties of bulk materials (bulk density, particle size, angle of repose, flowability, moisture, corrosivity, minimum ignition temperature etc.), conveying capacities, storage, process limitations, and connected equipment are some of the important factors in system design. Process and occupational safety considerations are also key elements in engineering design. Being a solution provider in the bulk solids handling industry with over 40 years of experience, our strength comes from R&D, custom design and production capabilities for each application. Our operational organizations are flexible enough to supply problem free solutions for our customers from a single equipment production to complete turnkey system installation in a short time.
Bulk material conveying systems
Raw dry bulk materials which are in powdered or granular forms are typically received from trucks, ships, or even trains and they are processed using bulk material handling systems like bulk solids conveying systems. Bulk solids handling systems utilise screw conveyors, pneumatic conveyors, belt conveyors and other related bulk material conveying systems to transfer dry solids from one point to another within a process line. Polimak bulk solids conveying systems allow smooth, fast and reliable transfer of bulk materials for numerous applications. Some of these applications may include; the transfer of bulk solids from sack or bag to storage silos, the conveying of dry bulk solids from bulk bag unloading stations to storage containers, the feeding of production lines from silos or hoppers and many other applications.
Bulk material loading systems
These are systems used to load dry bulk solids into bulk trucks, ships, storage silos and other related storage or containment objects. Dry bulk solids are frequently loaded at a production site using bulk material loading systems and they are transported to their site of use by means of suitable bulk vehicles. Bulk loading systems produced by Polimak include mobile bulk truck loading systems, ship loading systems, stockpile loading systems, big bag loading systems, tanker loading systems, hopper loading systems and many more.
Bulk Material Storage Systems
Powdered and granular dry bulk materials used in a broad range of industrial handling processes require safe and compacted storage systems. It is necessary for a bulk material handling system to have storage systems where dry solids are stored until they are required for usage. Polimak bulk material storage systems (silos, hoppers, bins) give dry bulk solids processors the ability to store large and small volumes of their dry solids. Our bulk solid storage systems ensure minimum ground space consumption, bulk material contamination prevention and optimal flow into downstream systems.
Bulk material discharge systems
Bulk solids are usually stored prior to being used, even if it is just for a relatively brief period of time. Their flow, dry bulk solids, varies when being discharged from storage systems. Bulk material handling systems utilise bulk material discharge systems to help stimulate or improve dry solids flow from bulk containers. In some operations, the downstream equipment is significantly influenced by the design of bulk solids discharging systems. Silo discharge systems, mixer discharge systems, tank discharge systems, big bag discharge systems, octabin discharge systems, bag dump systems, bulk truck unloading systems, tanker unloading systems, liner bag container unloading systems, and storage hopper discharge systems are among Polimak's bulk material discharge systems.
Bulk material dosing systems
In several productive applications, it is necessary to develop formulations (based on bulk solids properties) required for dosing various products being processed. Bulk material dosing systems are used in bulk material handling systems to provide precise and accurate dosing. Dosing accuracy is critical for achieving an accurate bulk solids handling process when a consistent output is required. A combination of gravimetric or volumetric dosing systems and pneumatic conveying systems are used to feed bulk material mixers. Polimak provides a wide range of configurations depending on the process requirements.
Turnkey bulk material handling systems
We provide turnkey bulk solid handling systems from raw material input to its output. Equipment for bulk solids loading, filling, discharging, conveying, mixing, dosing, feeding and weighing are combined to have a complete production line. Design, production, installation and commissioning services for production lines of a wide range of industries are available from one supplier.
Bulk material handling industries and applications
Bulk material handling is an essential aspect of any industry that processes dry bulk solids. Our experience within the industry of producing bulk handling systems allows us to design and produce cutting-edge bulk material handling systems used in various industries like cement, food, chemical, mining, plastics, agriculture etc., for numerous applications. We have the experience to design and supply our customers with the right bulk material handling systems to meet their requirements.
Agricultural Industry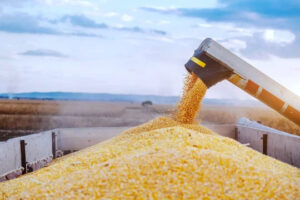 The agriculture industry benefits from the use of bulk material handling systems when processing bulk materials like soybeans, corn, wheat, rice and many other related products. Bulk solid conveying systems such as pneumatic conveyors, screw conveyors, belt conveyors are utilised to transfer bulk materials within process lines. Bulk solids storage systems, with storage silos being the most prevalent equipment, are used to store dry grains.
Wheat, flour, semolina, barley, oat, rye, bran, chaff, feed, seed, corn, chickpea, bean, lentil, pea, soybean, sesame, rice, pice flour, dried fruit, hazelnut, peanut, almond, sunflower seed, cottonseed, grain cereals, chestnut are some of the bulk materials that can be handled by bulk solids handling equipment and systems.
Food Industry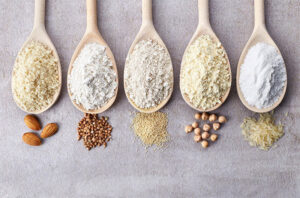 Food processing and manufacturing for both human and animal consumption is a huge industry that is still growing. Corn milling, sugar refining, coffee processing are some of the ways in which bulk material handling systems are utilised in the food industry. Polimak's food-grade bulk material handling systems constructed from stainless steel having no crevices are ideal for handling food products.
Grains and powders like coffee grain, coffee powder, sugar, salt, flour, milk powder, corn, starch and spice can be conveyed, stored, loaded and fed by bulk solid handling systems. Food grade equipment are used in food industries.
Mining Industry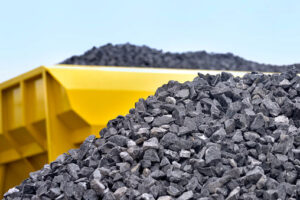 Raw materials such as limestone, quartz etc., mined from the Earth's crust have to be processed before consumer use. In mining industries including cement, calcium carbonate (also known as calcite having a chemical formula CaCO3), lime etc. grinders are used to reduce feed material size in order to liberate minerals from barren rock. Ball mills are currently the most commonly used grinding machines in the mining industry. Ball mill operations make use of feeding systems like screw feeders to gradually feed raw material (e.g., ores) to a mill at consistent rates. The material size (part of it) is reduced and discharged via the mill's outlet. Steady material discharge is very crucial throughout the process, hence bulk material discharge systems can be used at the outlet port to promote efficient and controlled bulk material discharge.
Power Industry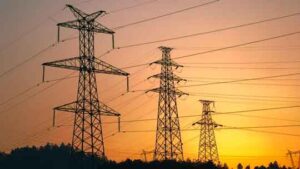 Internal combustion or combustion turbine conventional steam technologies are commonly used to generate electricity from fossil fuels such as coal, oil, or gas. A by-product of coal combustion, fly ash, is transported from baghouse filters and ESP systems to bulk material storage systems like silos. Using bulk material discharging systems, fly ash is discharged from storage and loaded into appropriate bulk vehicles or conveyed using conveying systems to plants for manufacturing (e.g, cement manufacturing).
Plastics Industry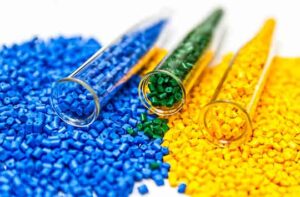 In the plastics industry, storage, discharging, loading, and feeding of plastics such as polyvinyl chloride (PVC), polyethylene, polypropylene (PP), acrylonitrile butadiene styrene (ABS) and many other related plastics are done by using bulk material handling systems. Bulk solids (powdered and granular) are transferred between silos, mixers, and batching units by using conveying systems and fed into injection and extrusion machines by means of feeding systems.
Chemical Industry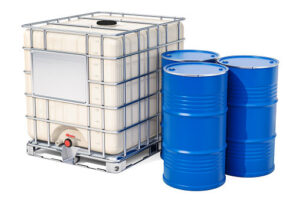 Bulk solids handling systems are required to convey and process bulk materials in the chemical industry. Dry bulk solids like aluminium oxide, Titanium Dioxide (TiO2), urea, paint additives, and other related products are pneumatically conveyed on ship unloaders and barges by using conveying systems like roots blowers. Polimak designs and manufactures bulk solids systems for metering and conveying purposes.
Bulk Material Handling Systems FAQ
What is bulk material?
Also referred to as dry bulk solids or simply bulk solids, bulk materials are loose commodities usually found in powdered or granular forms. Some examples of bulk solids are sugar, salt, starch, flour, coffee beans, beans, rice, wheat, plastic pellets, sand, cement, coal, chemicals and many others.
What is bulk material handling?
Bulk material handling refers to the engineering process of designing mechanical systems for transporting and processing bulk materials. Bulk material handling is critical in a variety of industrial operations including mining, food, agriculture, plastics etc.
What is a bulk material handling system?
A bulk material handling system is a collective term used to refer to all the machinery used in processing bulk materials. Bulk material handling systems are essential in several industries for handling and storing dry bulk solids. Handling can be accomplished mechanically with the use of conveying systems like screws, belts etc., or pneumatically with the use of conveying air (pressure or vacuum). Other bulk handling systems include weighing, batching, dosing, dust collection, milling, and mixing.