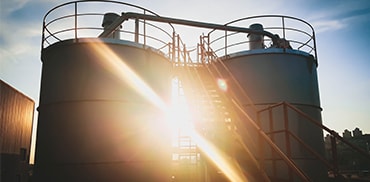 Who We Are ?
Polimak is a solution provider in bulk solids handling industry with 40 years of experience. Though, our main product lines are bulk solid handling, conveying, dosing, batching, dust collection, filter systems and pumps. Food, cement, iron, steel, agriculture, chemicals, plastics are some of the industries we serve.
HUNDREDS OF WORKING SYSTEMS IN MANY COUNTRIES
Polimak operates in the process technologies field with long years of experience. We design, produce, develop software, and assemble turnkey systems of various equipment used in production lines in sectors such as cement, food, chemistry, iron, and steel, in Turkey and abroad. Our area of expertise is the handling of various dry bulk raw materials in powder and granular form such as cement, sugar, plastic granules, fly ash, calcium carbonate etc. Bulk raw material handling processes include transferring, storing, weighing, mixing, collecting dust, loading and unloading these materials. Today, we have thousands of systems operating all over the world.
ABOUT OUR PRODUCTS
The correct selection and use of systems used in the handling processes of dry bulk raw materials are essential for the efficient and healthy functioning of the production lines. Polimak's experienced engineering team optimizes system design and selection according to the requirements of industrial applications. From the smallest equipment to turnkey bulk raw material automation, all components are developed with detailed engineering calculations. For requests other than standard equipment, our engineering staff makes special designs and offers project-specific solutions. Our Research and Development (R&D) team within the company has the infrastructure to produce industrial solutions with advanced technology, high added value and the needs of developing the world by constantly monitoring new trends and customer expectations.
Equipment and systems produced by Polimak:
Bulk raw material filling, unloading, transportation and storage systems: the transfer of powdery and granular dry bulk materials between various machines or stock points in industrial processes such as feeding, storage, tracking and automation of production lines are carried out with these systems. These bulk raw material handling systems consist of many sub-components, equipment, and machinery.
Pneumatic conveying systems:
Pneumatic conveying systems are used to transfer dry solid materials through pipelines by air pressure or vacuum.
Rotary valve:
A rotary valve also known as an airlock valve depending on the industrial application provides volumetric unloading/discharging of dry bulk raw materials at a determined speed. It is connected to upstream equipment like storage silos, bins, cyclones etc.
Jet filter and dust collectors:
Jet filter and dust collection systems are used to prevent the dust generated during the handling processes of dusty dry bulk raw materials from spreading to the environment. The dust particles are trapped within the system, and the clean air is evacuated to the environment.
Bag dump station:
Powder and granular materials such as flour, cement, wheat, sugar are generally transported in sacks or bags for easy transportation. At the point where the product will be used, the bag should be opened and its contents should be emptied into equipment such as mixers, bunkers, conveyors etc. Bag dump stations prevent dust and foreign substances from mixing with the product during the discharge process. The system provides clean and healthy operations.
Big Bag discharging systems:
In high-volume production facilities, it is sometimes difficult to manage the dry raw material that comes in sacks. Big bags which are large-sized sacks are generally designed to carry between 500kg to 2000kg of dry bulk raw material at a time. With such dimensions more bulk raw material can be transferred and processed in a short period of time. Big bag discharging systems also called big bag unloading systems, help discharge a high amount of dry solid raw materials from big bag sacks to the next process equipment in an easy, efficient, and safe manner.
Telescopic loading bellows:
During the loading of powdered bulk raw materials into trucks, bulk tanker trucks, ships or wagons, a significant amount of dust is emitted into the environment and product loss occurs. With telescopic chutes, dust emission to the environment during the loading of bulk materials is prevented and loading operation efficiency is increased. To access our Telescopic Loading Systems, click here.
Blower:
Blowers also called roots blowers are used for high flow and medium pressure air needs which are required in many industrial processes such as pneumatic conveying, wastewater treatment, vacuum systems etc. A roots blower is an air and gas pump consisting of dual rotors that operate on a positive displacement principle.
Diverter valves, and flow control valves:
Control valves and flap type diverter valves are used to control and direct the flow of bulk materials between various process lines. Bulk materials flowing vertically with the help of gravity are directed to two or more downstream equipment e.g., flap-type gravity diverter valves. In pneumatic conveying systems, the dry solid material is directed to the desired pipeline within the pressure pipeline. Butterfly valves and slide gate valves are used to open or cut off the bulk material flow completely.
Screw conveyors and feeders:
Screw conveyors are the simplest mechanical conveying equipment that allow the transfer of dry bulk materials between two close points. The bulk material is driven forward with the help of a rotating screw in a closed tube or U-section chamber. It is used to handle dry bulk solids in powder and granular form such as cement, PVC, flour, corn, wheat, polypropylene, polyethylene etc.
Bin Activator:
A bin activator is a conical-shaped equipment that allows continuous gravity flow of dry bulk materials. It assists with the prevention of problems like bridging, ratholing, segregation etc., encountered when discharging bulk materials from upstream equipment like storage silos, hoppers etc. The vibrations generated by the vibrating bin discharger don't agitate the upstream or downstream equipment because of the polyurethane seal and suspensions.
Bulk material storage silos :
Bulk material storage silos provide temporary storage of dry bulk materials. The silo body is generally cylindrical and vertical with a conical-shaped bottom where the outlet is located. In addition to meeting the storage needs with a single silo, in accordance with process demands, a comprehensive solution that covers silos systems with loading and unloading lines, as well as many silos with logistics and storage requirements is provided for.
Silo equipment, control and safety systems:
Various systems are used for monitoring and managing the status of bulk material storage silos and the dry solid materials stored in them. Data such as material level, weight, temperature, and humidity information in the silo can be easily monitored by the plant manager. In addition, the control of other equipment such as the conveyor, jet filter, safety valve etc., connected to the silo is provided by these systems.
Mobile bulk truck loading systems:
In large logistics operations, when the materials in the big bags need to be loaded into the bulk trucks, mobile bulk truck loading systems also known as mobile big bag unloading and loading systems are used. Dry bulk materials are discharged from big bags and loaded into tanker trucks or open trucks without dust emission with the help of these systems.
Fly ash handling systems:
Ash, which is the residue of burning material in coal or solid waste burning power plants, must be removed from the boilers and stored safely. The ash accumulated in the bag filter at the boiler outlet is discharged while hot and transferred to the silos with the help of the pneumatic conveying system. It is sent to the relevant facilities for disposal or recycling with the bulk trailers under the silo.