Mobile Big Bag Discharging and Bulk Truck Loading System
Bulk solids in the shape of powders and pellets are stored and moved around in many industrial applications. They are stored in bags, bulk bins, and godowns and have to be moved around by using trucks or other bulk carriers. Loading and discharging these solids is a major logistic issue and has to be managed. Our systems give you a strong capability to move around such materials efficiently, safely, and economically due to their excellent design and robust construction. Check out these systems and select the one best suited to your application.
3 Different Systems are available;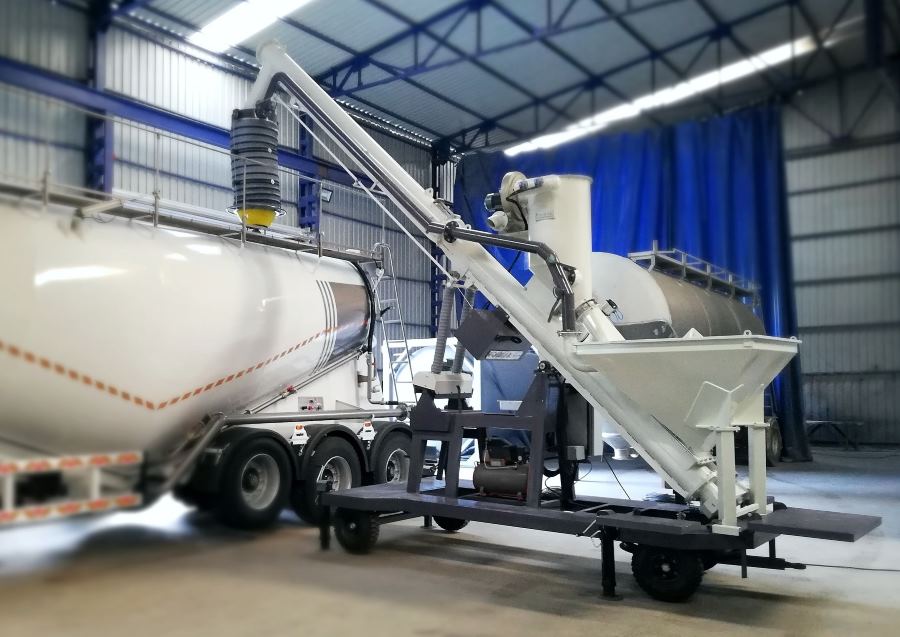 Fast, Robust and Economical
Look at our Mobile Bulk Truck loading processes. Our unique technology guaranties quick emptying of bags and robust, automatic and dust-free loading in the truck .
That is why our Mobile Truck loading systems are being used all over the world with very high client satisfaction.
They are not only efficient, easy to maintain and above all economical. If your applications require Big bag discharging and loading look at our models and we are sure that you will find one that exactly suits your needs.
Our System consists of a mobile platform, big bag discharger, loading screw, telescopic loading chute and dust collector. System can be towed by a forklift and screw conveyor can be brought to horizontal position for easier and safe transport.
There are many options to choose from. Select the model that meets your requirements completely.
Advantages of our Bulk Loading Systems
Mobile: Wheeled mobile chassis that allows easy transportation of the system to the desired location.
Functional: Compact form can be moved easily from one place to another.
Efficient: The system can transfer large quantities of material in a short time.
Easy to Operate: Very few operators are necessary to handle both discharging and loading trucks/tankers at the same time.
Remote Control Available: Operator can control the whole operation with a remote controller.
Reliable: It can work a long time without any need for maintenance, which enables you to save money.
Suitable for Uneven Ground: The screw jack leveling legs can be adjusted to any place to place the system.
Flexible: The loading bellow can be extended and retracted concerning the height of the bulk truck.
Environmental Friendly: Built-in dust collection system captures dust and prevents material loss.
Robust Design: The system will work for continuous long hours without failure.
Handled materials with Bulk Truck Loading System
Materials in powder and granule form like cement, fly ash, mining minerals, calcium carbonate, pvc, plastic pellets, plastic powders, polyethylene, ceramic powders,alumina, bentonite, bauxite, coal, cement clinker, gypsium, perlite, kaolin, limestone, marble powder, soda ash, quartz, urea, sodium suplhate, wheat, flour, animal feed, seed, corn, rice, sugar, salt and similar powdered or granular dry bulk solids.