Slide Gate Valves
Slide gate valves are designed to provide an efficient method for controlling the flow of free flowing dry bulk materials. Altough there are some major differences, slide gate valves are also known as knife gate valves. These type of gate valves are generally installed at the outlet of dry bulk storage bins, silos, hoppers, chutes, mechanical conveyors or any similar gravity discharge points. A rectangular blade (knife) made of thick sheet metal moves horizontally in the valve body. It can shut off the flow of the product completely or it can be kept open at intended level to control product flow speed. When the blade is in open position, bulk material in powdered, pellet, flake or granular form falls freely through the slide gate valve. When the blade is in closed positon, it functions as a shut-off valve and prevents the product flow completely with the aid of proper sealing. Additionally, sliding blade can be adjusted to any position to maintain desired product flow rate.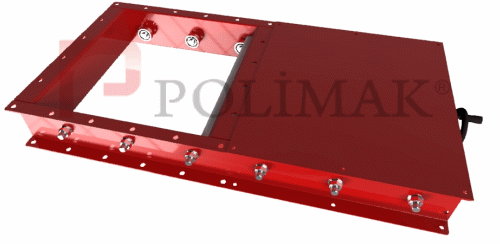 Design Features and Benefits of Slide Gate Valves
Low profile valve body design maintains a minumum flange-to-flange height to minimize space requirements. It adapts easily to new installations and retrofits. Proper selection of sliding knife and seal material leads to problem free flow control of bulk solids. Uninterrupted bulk material flow when the valve is fully open Can be used as fast shut off gate valve Slide gate valve can be actuated while material is being discharged in gravity flow line. Rectangular and circular inlet / outlet flanges are available DIN or ANSI flanges are available Built in replacable polyurethane, gland packing and silicone seals to prevent product leakage Cast steel, cast aluminium and welded steel construction slide gate valve designs available depending on application requirements. Stainless steel slide gate valve models are avaliable for food and sanitary applications Hardox steel models are available for abbrassive bulk solids. High temperature gravity discharge knife gate valve models up to 200C Can be operated by , pneumatic piston , electrical drive, manual handwheel or manual chainwheel Sliding blade position can be adjusted with special position controller to maintain product flow speed at intended level. Built in limit switches and position indicators to check the valve position. Custom designed slide gate valve models are available. Atex certified gravity discharge slide gate valves are available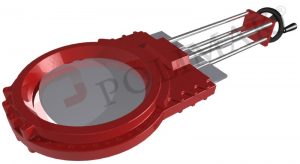 Slide Gate Valve Application Examples
Silo discharge slide gate valves are generally actuated by pneumatic pistons. They are used for opening and closing product flow automatically to discharge the product to downstream equipment. Manually operated slidegate valves installed below silos or hoppers are generally used for maintenance operations of equipment like rotary valve, screw feeder etc that are installed below slide gate valve When installed on the gravity flow line, electrically actuated knife gate valves are used to adjust product flow speed. Slide gate valves can be installed at the inlet and outlet of dry bulk mixers. Feeding of powdered or granular materials are done before mixing. And mixed product is discharged after mixing.
Handled Materials
Materials in powder, pellet, granular and aggregate form like cement, fly ash, mining minerals, calcium carbonate, pvc, plastic pellets, plastic powders, polyethylene, ceramic powders,alumina, bentonite, bauxite, coal, cement clinker, gypsium, perlite, kaolin, limestone, marble powder, soda ash, quartz, urea, sodium suplhate, wheat, flour, animal feed, seed, corn, rice, sugar, salt.
Links