Flap Type Gravity Diverter Valves
Gravity discharge diverter valves are designed to divert gravity flow of bulk solids from one feeding point to two or more receiving points. Bulk material in powdered, pellet, flake or granular form falls freely through the diverter valve. Wear resistant swivel flap is used for diverting the flow inside the valve. Depending on the application it consists of a flexible poliurethane rubber which is sandwiched between two metal plates for better sealing. Flap type diverter valves are installed on outlets of dry bulk storage silos, bins, chutes, conveyors and similar equipment.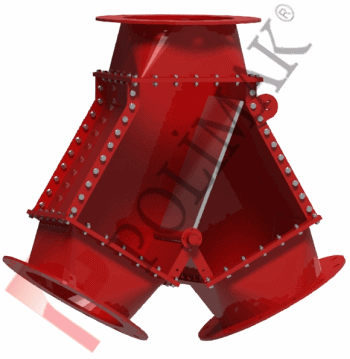 Design Features and Benefits of Gravity Discharge Diverter Valves
Heavy duty construction flap valve ensures long years of reliable operation Flat blade diverter valve can be actuated while material is being conveyed Rectangular and circular inlet / outlet flanges are available DIN or ANSI flanges are available Built in replacable polyurethane and silicone seals to prevent product leakage Cast steel, cast aluminium and welded steel construction diverter valve designs available depending on application requirements. Stainless steel diverter valve models are avaliable for food and sanitary applications Hardox steel models are available for abbrassive bulk solids. High temperature gravity discharge valve models up to 200C Can be operated by pneumatic actuator , pneumatic piston , electrical drive or manual handle. Diverter flap position can be adjusted with special position controller for proportioning the product flow to two outlets. Built in limit switches and position indicators to check the valve position. Optional side inspection door. Custom designed 2 way outlet and 3 way outlet diverter valve models are available. Atex certified gravity discharge diverter valves are available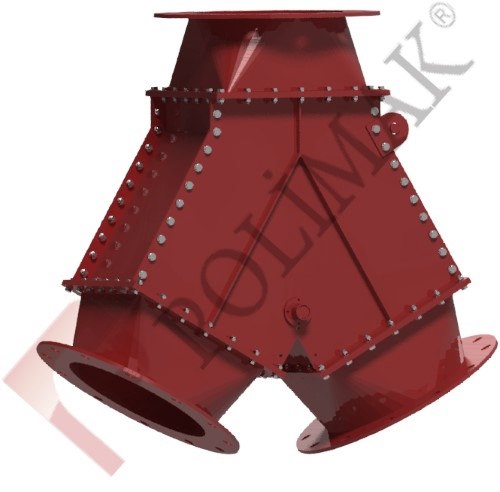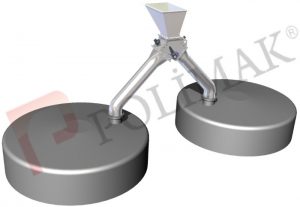 Flap Type Diverter Valve Discharge Leg Configurations
Two 30
O
or 45
O
symmetric legs One straight leg, one 30
O
or 45
O
offset leg One straight leg, two 30
O
or 45
O
offset legs Custom designed outlets with any angle to suit the application.
Gravity Diverter Valve Application Gallery
Handled Materials
Materials in powder, pellet, granular and aggregate form like cement, fly ash, mining minerals, calcium carbonate, pvc, plastic pellets, plastic powders, polyethylene, ceramic powders,alumina, bentonite, bauxite, coal, cement clinker, gypsium, perlite, kaolin, limestone, marble powder, soda ash, quartz, urea, sodium suplhate, wheat, flour, animal feed, seed, corn, rice, sugar, salt.
Links