Flow Control Gate Valves
Flow control gates are designed to provide controlled discharging of bulk solids from silos and bins. Installed on airslide conveyors, flow control gate valves are used for shut-off, flow regulation and metering. A flow control gate valve has two chambers inside. Lower chamber supplies fluidization air to upper chamber. It works like an airslide conveyor, keeps continuous material flow. A fabric permeable to air divides the upper and lower chambers and maintains constant air flow to upperside. Upper chamber has a rotating drum with an aperture around its perimeter. Rotating the drum in one direction provides dust tight shut-off. Rotating the drum to opposite direction provides an adjustable cross sectional passage for material flow. By adjusting the exact position of the drum, bulk material flow speed can be adjusted with precision. Leak tightness between rotating drum and valve body is achieved by a flexible felt gasket. Rotating drum can be actuated by pneumatic piston, electrical motor, pneumatic positioner or manual hand lever. Flow control gate valves are widely used in cement silos to adjust material flow from silo to downstream equipment. Depending on the application, bulk truck loading, packaging, weighing or production line equipment are fed by flow control gate valves.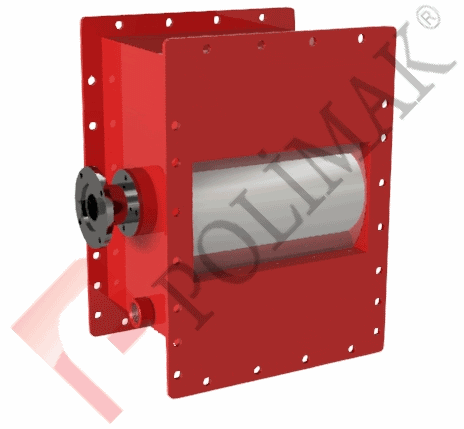 Design Features and Benefits of Flow Control Gate Valves
Uninterrupted bulk material flow when the valve is fully open Flow control gate valve can be actuated while material is being conveyed through airslide conveyor. Built in replacable felt gasket to prevent product leakage Cast steel, cast aluminium and welded steel construction flow control gate valve designs available depending on application requirements. Can be operated by pneumatic piston, electrical drive, pneumatic positioner, Kinetrol pneumatic actuator, manual hand lever or manual handwheel . Rotating drum position can be adjusted with special position controller to maintain product flow speed at intended level. Built in limit switches and position indicators to check the valve position. Custom designed flow control gate valve models are available. Dust free operation.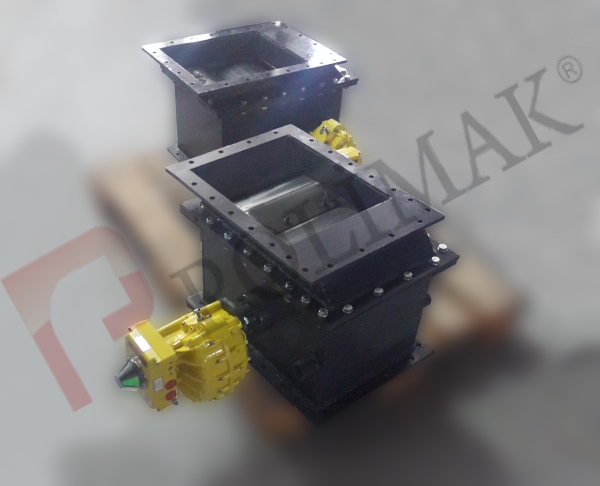 Handled Materials
Materials in powder form like cement, fly ash, mining minerals, calcium carbonate, ceramic powders,alumina, bentonite, bauxite, coal, cement clinker, gypsium, kaolin, limestone, marble powder, soda ash, quartz, urea, sodium suplhate.
Links