FT Series Rotary Airlock
Flow through rotary airlocks are used in wide range of applications. The material enters from the top and exits from the bottom flange of rotary airlock.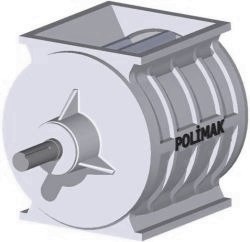 BT Series Rotary Airlock
Blow through rotary valves are used in pneumatic transport systems. They are suitable for transferring sticky powdered materials. The material enters from the top and exits from side flange and transferred to conveying pipe.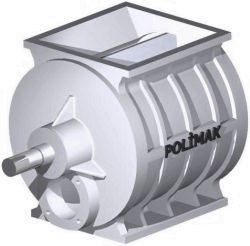 OS Series Rotary Airlock
The Off Set type also referred as side entry type rotary feeders are used for preventing crackage of delicate materials like sunflower seed and peanut. These models are also suitable for hard to shear pellets like nylon or plastic granules.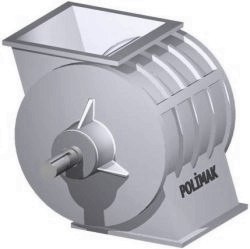 Other Options
Outside Bearing
To protect bearings from damage of abbrassive and dusty materials, the bearing housing is mounted outside of side flanges. Packing seals are used in these models.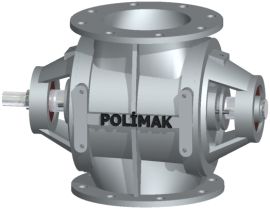 Flange Connection For Piping
Blow through rotary valves have optional flange connections for easier installation on pneumatic conveying pipelines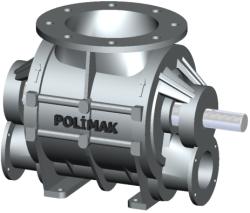 Stainless Steel Rotary Airlock
Rotary valves can be built from AISI 304 and 316 steel for food grade and chemical applications
Hardox Rotary Valves
For very abbrasive bulk solids like fly ash, cement and sand, the rotor blades and inner housing of airlock are built from hardox steel.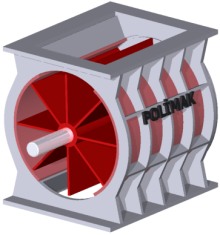 Rotary Valves For High Temperature Applications
The casing, rotors, bearings and seals of rotary valves are built to withstand elevated temperatures.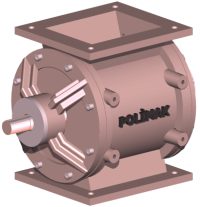 Motor and Gerbox Connections
Worm Gear Reducer Connection
Worm gear reducers are installed on rotary airlock shaft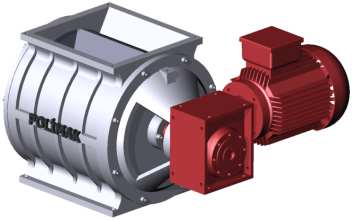 Chain Gear Connection
Chain gears are installed on rotary airlock and gearbox.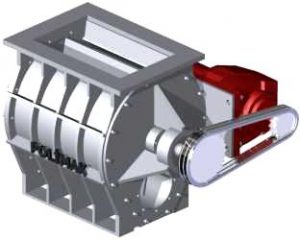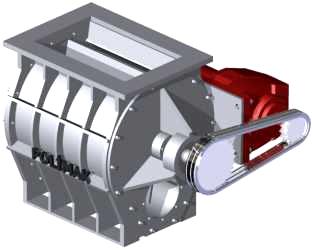 Rotor Types
Closed End Rotors
Closed end rotors reduce air leakage. They prevent wear on side covers of airlock when handling abrasive materials.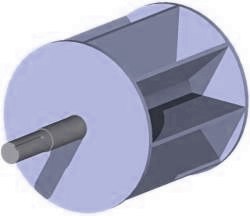 Open End Rotors
Open end rotors are generally used in blow through type rotary feeders installed on pneumatic conveying applications.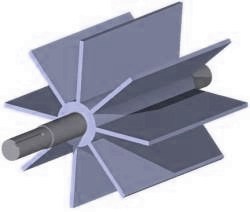 Adjustable Bladed Rotors
Adjustable blades are used in handling abbrassive materials for longer operational life.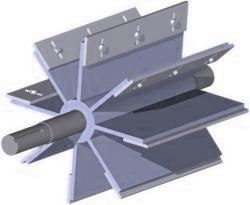 Elastic Polyurethane Bladed Rotors
Elastic blades are used for bulk solids that have large particle sizes and also used for abbrassive powders.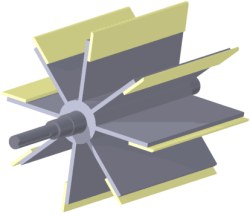 Scalloped Rotors
The scalloped rotor design is suitable for sticky materials. They are also used in food grade applications.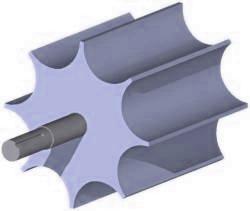 Optional Accessories, Special Applications
Inlet Slide Gate
The slide gate is used for adjusting material flow to the rotary airlock.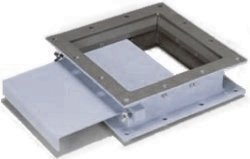 Pneumatic Conveying Line Connection Adapter
These rotary airlock outlet adapters are used for connecting the FT and OS series airlocks to pneumatic conveying pipeline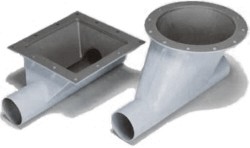 Dosage Control System
Different materials can be mixed with precision with the help of rotary valves. The volumetric dosing system is controlled by PLC and computer. Dosage control software lets the user adjust the mixing percentages.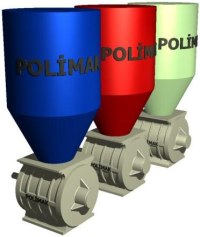 Custom Designed Rotary Valves
Polimak can design and produce airlocks for custom applications in very short periods of time.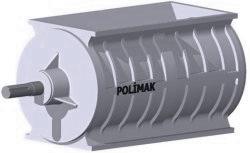 Handled Materials By Airlock
Cement, calcite, ash, glass powder, marble powder, plastic pellets, sawdust, pvc, fly ash, coal, coal dust, wheat, flour, barley, feed, seed, corn, chickpea, bean, soy bean, sesame, rice, rice flour, dried fruit, nuts, peanut, almond, sunflower seed, cotton seed, grain cereals, chestnut, coffee grain, coffee powder, sugar, salt, spice.
Links