Rotary Valves Industrial Applications
Rotary valves are an essential part of any industry that processes dry bulk solids. Our experience within the industry of producing bulk handling systems allows us to design and produce cutting-edge airlock feeders used in various industries like cement, food, chemical, mining, plastics, agriculture etc., for numerous applications. We have the experience to design and supply our customers with the right rotary valves to meet their requirements.
Where are rotary valves used?
Rotary valves are used to their fullest capacity in numerous bulk material handling industries. Some of the industries that make use of airlock feeders include the following:
Food Industry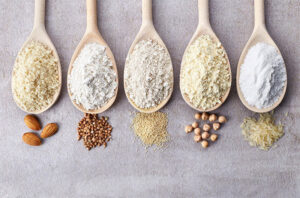 The food industry is one of the fast-growing industries responsible for the manufacturing and processing of food for both human and animal consumption. Some of the processes involved in the food industry include coffee processing, sugar refining, corn milling etc. Polimak's food-grade rotary valves constructed from stainless steel with no crevices are ideal for handling food products. Dry bulk food products such as milk powder, coffee powder, sugar, corn flour, cornstarch etc., are processed using food-grade rotary valves.
Agricultural Industry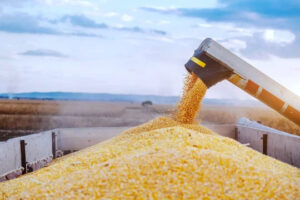 The agricultural industry is one of the largest industry in the world responsible for crop production. It has played and continuous to play a vital role in economic growth and development. The agricultural industry benefits from the use of various bulk material handling systems including rotary feeders when processing bulk materials. Some of the dry bulks solids processed using rotary valves include wheat, barley, oat, rye, bran, chaff, chickpea, bean, lentil, soybean, sesame, rice, dried fruit, hazelnut, peanut, almond, sunflower seed, grain cereals etc. Standard rotary valves constructed from cast iron or carbon steel are used to handle bulk solids in granular form.
Plastics Industry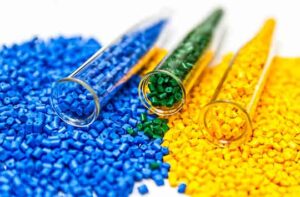 Plastic bulk raw materials in form of powder, granules and pellets are frequently processed in the plastic industry. Rotary valves are designed to render reliable performance during operations. The valve body and the valve rotor are precisely engineered to prevent bulk material shearing and jamming. Polymers such as polyvinyl chloride (PVC), polyethylene, polypropylene (PP), acrylonitrile butadiene styrene (ABS) and many other related plastics are some of the bulk materials handled using a rotary valve.
Chemical Industry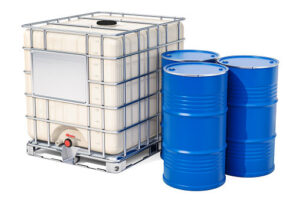 Pure and sensitive dry bulk materials necessitate proper design of bulk material handling systems such as rotary valve to prevent contamination. Regular cleaning and inspection is necessary to ensure problem-free operations. Rotary valve built from corrosion resistant material are used to handle various materials such as sodium bicarbonate (baking soda), calcium sulfate (gypsum), sodium chloride (table salt), zinc chloride, calcium carbonate, copper sulphate etc.
Mining Industry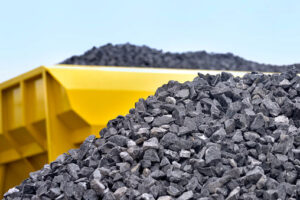 Raw materials such as limestone, quartz etc., mined from the Earth's crust have to be processed before consumer use. In mining industries including cement, calcium carbonate (also known as calcite having a chemical formula CaCO3), lime etc. grinders are used to reduce feed material size in order to liberate minerals from barren rock. Rotary valves are used to handle the liberated minerals in a process line. Because of the nature of the materials in this industry, abrasion resistant material (like hardox) are used to build our rotary valves.
Power Industry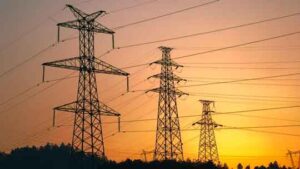 The generation of power (electricity) can be achieved by using fossil fuels like coal in internal combustion steam technologies. A by-product of coal combustion, fly ash, is transported from baghouse filters and ESP systems to  bulk material storage systems like silos. Rotary valves can be used for discharging fly ash from the storage silos.
How are rotary valves used?
Rotary valves are used in many bulk material handling industries such as the aforementioned industries. Rotary valve industrial applications such as the discharge of dry bulk materials from upstream equipment to downstream equipment, help the user attain controlled material flow through the process line. Some of the rotary valve industrial applications include:
Bulk solids discharge from silos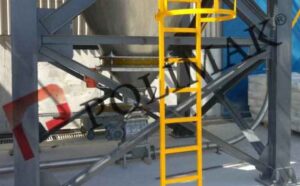 Rotary valves are widely used to discharge dry bulk solids from storage silos. The valve is mounted to the bottom of a storage silo cone (at the outlet port). It is used for controlled release of dry bulk materials to a piece of downstream equipment such as screw conveyors/feeders, conveyor belts, bins, pneumatic conveying systems etc. It can also be mounted to hoppers or other bulk containment systems.
Dust particles discharge from cyclones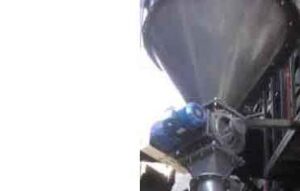 Sometimes referred to as a centrifugal collector, a cyclone is a dust collection equipment that separates particulates from the air by centrifugal force. It causes an incoming airstream to spin in a vortex. As the airstream is caused to alter direction, the particulates' inertia drives them in the original direction and causes them to separate from the airstream. The main vortex curls downwards carrying coarse particles while the inner vortex generated at the bottom of a cyclone curls upwards carrying with it fine dust. The rotary valve discharges the coarse dust particles that settle at the bottom of the cyclone.
Dust particles discharge from Baghouse dust collectors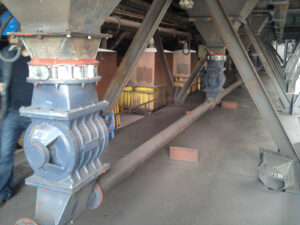 A reverse jet collector is commonly referred to as a pulse jet collector. A pulse jet collector makes use of bags held from a metal cage that is fastened to a tube sheet at the top of a collector. Dust enters the collector and its particles deposit on the outside of the bags. The deposits are cleaned by short periodic bursts of compressed air injected into the bags. These bursts cause flexing of the bags which result in dust particles breaking and falling of the bags. The particles settle at the bottom where they are discharged by an airlock valve. The airlock minimises the need for downtime in a process line and reduces operator intervention.
Bulk solids processing equipment feeding and discharging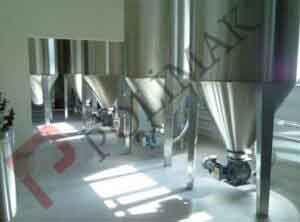 Most bulk industries necessitate additional equipment for controlled feeding and discharging of the handled dry bulk materials. Machines such as ball mills, pin mills, cone mills, hoppers, convey systems and many others require a steady rate of material flow to operate effectively. Rotary valves can be used with such equipment to feed or discharge bulk materials in an effective and controlled manner.
Feeding pneumatic conveying systems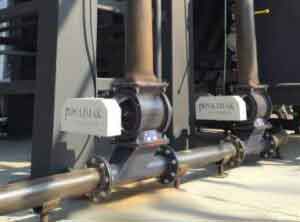 Rotary airlock feeders are used to feed dry bulk materials to conveying lines from upstream devices such as storage silos or hoppers. They prevent air leakage while maintaining constant feeding of dry bulk materials.
Handling large-sized bulk materials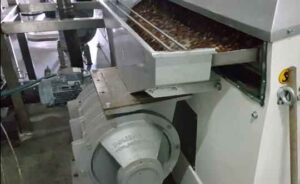 Polimak produces quality rotary valves for smoothly handling large-sized dry bulk solids such as chickpeas, broad beans, hazelnuts. Our valves offer safe and efficient bulk handling with 0.1% harm guaranteed.
Which bulk materials can be handled with a rotary valve?
Rotary valves are used to handle a wide range of dry bulk materials. Depending on the characteristics of dry bulk materials being processed, rotary feeders can be manufactured from stainless steel, carbon steel or hardox steel. Some of the bulk materials that can be handled using a rotary valve are sugar, salt, spices, wheat, rice, cornstarch, corn (maize), bran, coffee beans, broad beans, milk powder, coffee powder, wheat flour, cornstarch, plastic pellets, rubber powder, cement, fly ash, sand, alumina, copper oxide, sodium sulphate, calcium carbonate, limestone etc.