Rotary valves are mechanical devices used to feed and discharge granular or powdered bulk solid materials to ensure continuous control or regulatory function. These valves are also called rotary feeders and rotary airlocks.
Solid granular material is fed into the valve via any kind of storage or feeding system which passes through the valve rotor, and it is then put out in discrete and required amounts. Controlled feeding rate is one of the most important features ensured by rotary valves.Rotary valves can also be used at the beginning or end of pneumatic conveying lines to ensure minimum loss of air pressure. When located over other equipment, rotary valves provide volumetric and gravimetric feeding for continuous mixing and streaming solutions for systems.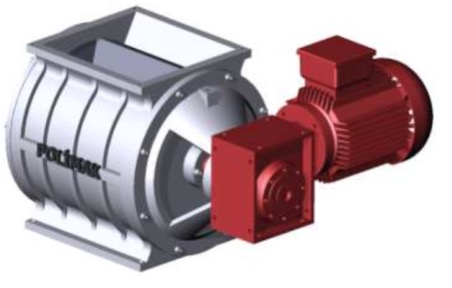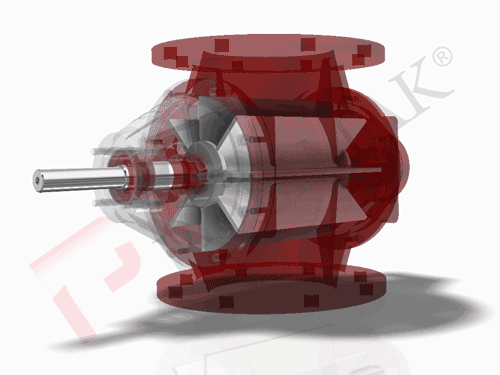 Rotary valves are being used with almost every material in powder and granular form of bulk solid materials and take place in many application areas and serve numerous industries such as food, cement, iron, steel, agriculture, chemicals, plastics where their use is very convenient. Cement, fly ash, mining minerals, calcium carbonate, pvc, plastic pellets, plastic powders, polyethylene, ceramic powders, alumina, bentonite, bauxite, coal, cement clinker, gypsium, perlite, kaolin, limestone, marble powder, soda ash, quartz, urea, sodium suplhate, wheat, flour, animal feed, seed, corn, rice, sugar, salt are some of the bulk solids which are handled by rotary valves.
A Rotary Valve is made up of the following components:
Housing
Rotor
Bearings
Drive mechanism
Connection adapter if required
How does a Rotary Valve work?
A rotary valve works on the basis of the circular motion of the rotor blades. These blades are assembled on the rotor shaft which is rotated by a gearbox. The rotor rotates inside the circular housing around to provide material feed to downstream equipment. Each gap between blades of the rotor takes same amount of material from the inlet to discharge it through the outlet, producing a volumetrically correct continuous of material flow. The delivery rate is defined by the volume of the blade gaps, the material density and the rotor speed.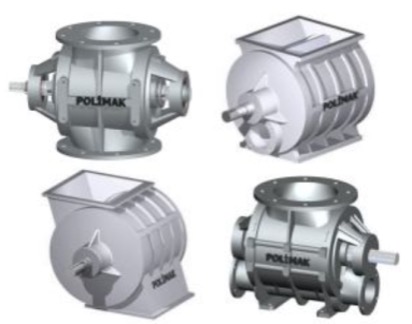 Various types of Rotary Valves
A wide variety of rotary valves are available for wide range of industrial processes. Not only each type is designed for a specific application, but also each component of the valve is configurable to meet the specific requirements of applications.
Housing styles
Depending on the requirement, the housing for the rotary valve can be designed to be either inline or in an offset configuration. In the inline housing configuration, the inlet is directly above the outlet, which is quite efficient and is more practical for most applications. In offset housing types, the inlet is intentionally skewed from the outlet to limit shearing and overfilling of the product. This configuration provides solutions for delicate materials which should be prevented from any crash or breakage and for better handling of materials with large particles or hard to shear pellets. There is also another design where the material enters from the top and leaves the housing from a side to directly feed the pipeline by the help of a blower. This type of housing is used in pneumatic conveying systems.
Rotor design
Rotors are designed for specific applications and they are available in many shapes and types. Each type is designed to fulfill a specific application requirement. Closed end, open end, adjustable bladed, scalloped, elastic polyurethane bladed rotors are only a few of our options to provide solutions for air leakage and handling of abbrassive, sticky materials in forms of powder large particles.
Drive types
Usually, rotary valves are powered by an electrical motor which is connected to a gearbox directly or via chain and gear, allowing precise speed control and regulation. Variable speed control and monitoring system can also be added to these drives.
Material of construction
It is important to select the correct material of the valve depending on the product, to avoid any chemical or physical corrosional and abrasional action on the valve. The valve material should be able to withstand the specific conditions of applications such as pressure, vacuum or elevated temperatures if required. Rotary airlocks made of carbon steel and cast iron are widely used in wide range of applications. In addition to stainless steel models for food and pharmaceutical material handling applications, rotary valves made of hardox steel are available for abrassive bulk materials.
Operating speed
Rotor speed determines the throughput rate. It is important to run the rotary valve at the correct speed to obtain maximum efficiency while meeting the required capacity. Rotor speed of a rotary airlock valve is generally determined with respect to bulk density and particle size of handled material, required throughput, pressure or vacuum level at inlet or outlet of the rotary valve and similar process data.
Some applications of Rotary Valves
Food and chemical processing
Pharmaceutical manufacturing
Plastics manufacturing
Dosage Control, Mixing, Batching
Silo Discharging
Mixer Feeding
Pneumatic Conveying Line Feeding / Discharging
Links