ACCESSORIES
In addition to supplying the right rotary valve type for the intended handling process, Polimak provides optional rotary valve accessories that allow enhanced material handling. These accessories may help prevent material shearing and regulate the flow of the material. The accessories mentioned below are installed on the valve's housing.
Pneumatic conveying line connection adapter
This conveying adapter is also known as the discharge blow through adapter. The flange shape can either be round or square depending on the valve flange configuration. This adapter is used in pneumatic conveying systems to efficiently introduce the material into a convey stream in a preferably low turbulence manner. It is used with both the flow through and the offset rotary airlocks.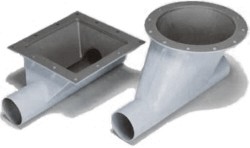 Inlet slide gate
The slide gate is used to regulate material flow. It is commonly known as a maintenance slide gate engineered for low-profile gravity flow materials as a close off gate. If it is positioned above the bin, the gate helps prevent the material from falling out when replacing the bin. It can be operated manually or automatically. The flange configurations can be circular or square.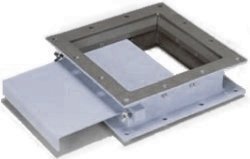 Dosage control system
In applications that demand greater control and accurate dosing, Polimak offers a better dosage control system – a volumetric dosage system. The volumetric dosage system measures the volume of the material but does not weigh it. The system is designed to discharge predefined amounts of material in a specific interval at a defined ratio. The dosing is controlled by a programmable logic controller (PLC) which allows the user to make adjustments of the mixing percentages.