Polimak renders a wide range of industrial production rotary valves (or airlock valves) with innovative options and accessories. Options and accessories ensure smooth and efficient functions as well as safe operation over time. Rotary valve endplates, housings and drive connections/systems are some of the valve's parts where these features can be installed. Some of the options and accessories that allow enhanced material handling by our rotary valves include:
Pneumatic Conveying Line Connection Adapter
Also referred to as a discharge blow-through adapter, a pneumatic conveying line connection adapter is used in pneumatic conveying systems to efficiently introduce dry bulk materials into a conveying stream in a preferably low turbulence manner. The flange can either have a circular, square or rectangular shape and can be used with both flow-through and offset rotary valves.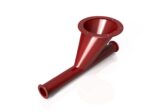 Slide Gate Valve
Slide gate valves are engineered to offer efficient flow control of free-falling bulk materials. They are able to close off the material flow, hence they are sometimes referred to as close off valves or maintenance slide gate valves. Slide gates are designed with circular, square or rectangular flanges and can be fitted above a rotary valve.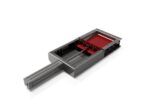 Shaft Air Purge
A shaft air purge (SAP) is an essential feature to add to rotary valves, especially the ones used for handling fine bulk material. It is used to blow air past a shaft seal and bearings by introducing minimal amounts of compressed air through a valve's cover plates to prevent contamination. A shaft air purge is also known as a shaft seal purge.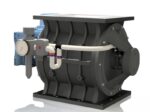 Rotor Pocket Purge
A rotor pocket purge is used for dry bulk materials with the tendency of filling up inside the rotor pockets, especially in the V-shaped rotor pockets. Compressed air is passed through the rotor area and prevents material build-up inside the pockets. Cavity air purge (CAP) is commonly used for closed-end rotor types handling abrasive, chip or flake dry bulk solids. A cavity air purge is typically used for abrasion reduction of rotor shrouds and cover plates. Abrasion reduction is achieved by blowing off bulk materials that try to settle between shrouds and end-plates.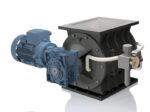 Zero Speed Switch
Also known as a rotational sensor,  a zero speed switch is a safe option that can be used with any rotary valve model. It is mounted on the valve's shaft guard on the non-drive end and is connected to a control system. It alerts a programmable logic controller (PLC) system when the rotation of the rotor shaft stops. This option comes in handy with regard to monitoring the valve.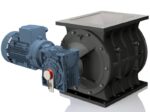 Shear Protector
Some dry bulk materials such as plastic pellets, wood pellets, plastic flakes, nuts etc., are susceptible to breaking easily during handling. A shear protector is used to reduce breakage occurrences during operations. Its configuration includes a bent wiper with a flexible polyurethane tip at the end. This configuration helps prevent bulk materials from jamming as they flow into a functioning rotary valve. As the bulk material flows in via the entry port, any material overflow is swept into the next rotor pocket.