Three distinct rotary valve models ( flow-through, blow-through and off-set)  are produced by polimak, each suitable for various applications. Our rotary valve design variation provides our customer with a broad model selection for handling different dry bulk materials with different properties. These valve models can be designed with different rotary valve drive connection configurations. Polimak rotary valve models come with the assurance of decades of experience, great know-how, as well as high-quality materials used in manufacturing.
Flow-through Models
Flow-through valve types are also known as drop-through valves. The two ports (inlet and outlet) on the valve housing are vertically aligned and tend to be the same size. During operation, empty rotor pockets are filled with the bulk solids vertically flowing down from upstream equipment, they are carried through the valve housing and then vertically discharged through an outlet. Drop-through valves are widely used for non-cohesive free-falling dry bulk materials like sand, wheat, rice, coffee beans and many others. Flow-through rotary valve models can be produced from stainless steel (AISI 304 and 316) for food and chemical industrial applications. They can also be built from hardox steel for abrasive dry bulk solids.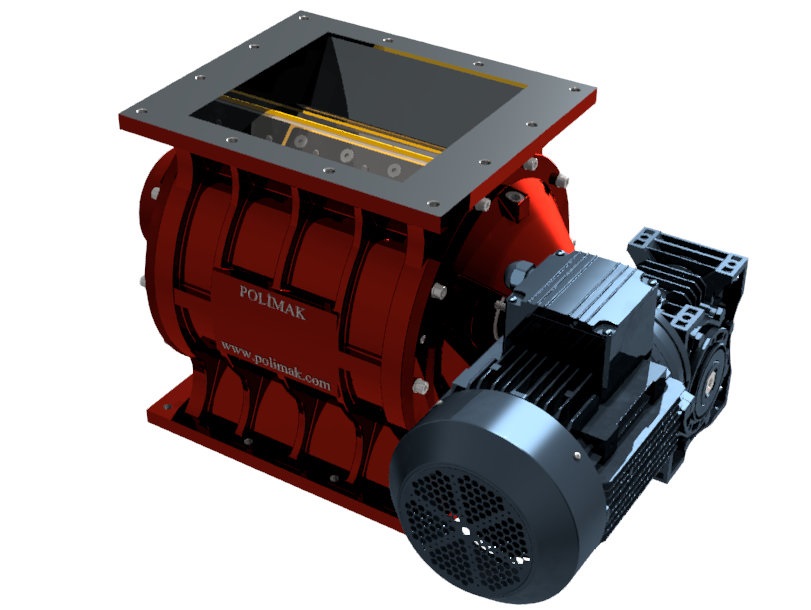 Blow-through Models
Blow-through valves are designed with troughs that are used to connect to pneumatic conveying lines, hence they are installed directly in a conveying line without any intermediate equipment. Bulk materials are supplied to the valve via its inlet as the rotor rotates. A filled rotor pocket offloads the bulk materials into the trough where the conveying air conveys the materials through a process line. Blow-through valves are utilised for sticky and cohesive bulk solids flour, milk powder, custard etc. For food and chemical industrial applications, stainless steel (AISI 304 and 316) blow-through rotary valve models are available, whereas hardox rotary valves are available for abrasive bulk materials.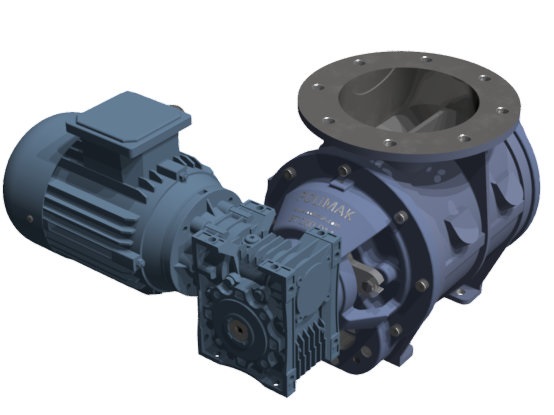 Off-set Models
Off-set rotary valves are sometimes referred to as slide-entry valves. The inlet and outlet ports are offset from the valve's housing vertical line. When a rotor rotates past a valve's inlet, this offset allows an upcoming empty rotor pocket to only partially fill. Partial filling minimises bulk material shearing. It also prevents jamming of a rotor caused by dry bulk particles trapped between the rotor and valve housing. The volumetric fill efficiency of an empty pocket may vary depending on the material, generally between 40% to 60%. It is used for bulk materials like sunflower seeds, plastic pellets and peanuts. Stainless steel (AISI 304 and 316) can be used to produce offset rotary valve models for food and chemical industrial applications. For abrasive dry bulk materials, the valves can also be made of hardox steel.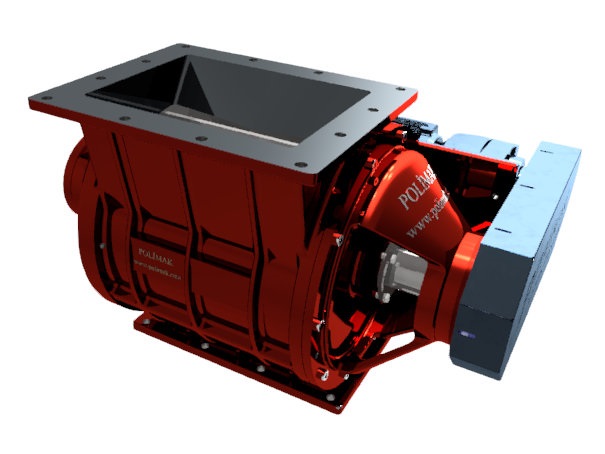 Custom design rotary valves
Polimak has significant expertise across various technology areas and continues to push boundaries of the production of bulk material handling systems such as rotary airlock valves to meet our customer's application requirements. Our primary skills are technology integration and design synthesis. To ensure that the produced rotary valves meet and exceed our client's expectations (operation, cost etc.), integrating proper levels of technology for the application is very crucial. Polimak's custom-engineered production incorporates problem definition, conceptualization, design, validation, production and installation. Our teams successfully carry out these steps efficiently and provide custom-designed rotary valves in a short period of time.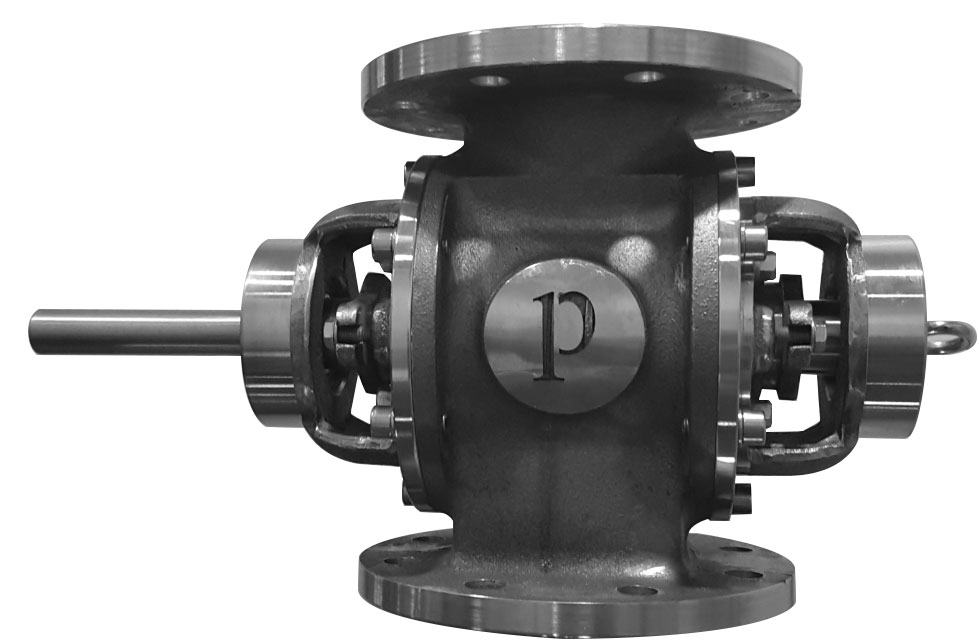 Rotary Valves Specifications
End-plates construction materials: cast iron, stainless steel, hardox, carbon steel.
Housing construction materials: cast iron, stainless steel, hardox, carbon steel.
Rotor construction materials: cast iron, stainless steel, hardox, carbon steel.
Seals: Lip seal, Gland packing.