Endplates are precisely designed and manufactured to properly fit both ends of a valve housing, thereby acting as side covers of a housing. Endplates contain and prevent dry bulk solid leakage in the longitudinal direction of a rotary valve. A rotary valve endplate has a circular opening (hole) at its center that acts as a pathway for a rotor shaft which allows the rotation of a rotary valve rotor during operation. These plates fall into two categories based on their design configuration; inboard and outboard mounted bearings. They are sometimes referred to as housing cover plates. It is on these cover plates where bearings and seals are installed to allow smooth and leakage-free bulk solids handling.
ROTARY VALVE ENDPLATES CONFIGURATIONS
Inboard bearings
Inboard bearings allow smooth rotation of the rotor shaft through the housing cover plates. The bearings are fitted directly on the endplate. Inboard mounted bearings use is typically confined to low duty rotary valves where process handling characteristics are not complex. Due to their orientation, the bearings are at risk of getting contaminated and may not be suitable for use in higher temperatures.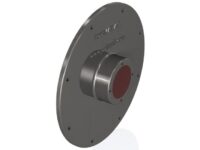 Outboard Bearings
Outboard bearings also allow smooth rotation of the rotor shaft through the end-plates. These bearings are outboard fitted to the cover plates. Because of their orientation, outboard mounted bearings are not exposed to product contamination and may be suitable for use in heavy-duty rotary valves. They can accommodate a wide range of process handling characteristics and provide bearing protection.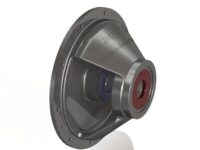 Gland Packing Seals
Gland packing seals are utilised to form an airtight seal around a rotor shaft. This seal prevents bulk materials from escaping/leaking as the rotor shaft rotates. The seal is inserted manually into the stuffing box and compressed using a gland follower. Multiple rows can be used depending on the application and handled material. It is the commonly used seal.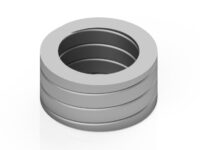 Lip Seals
The primary function of lip seals is to keep away contaminants and retain lubricants. They also confine pressure. The nature of a seal is to function by maintaining proper contact with the rotating counterpart (rotor shaft). The sealing edge diameter is slightly lesser than the shaft diameter. The sealing lip (front face) is angled at the point of contact with the shaft to reduce friction. The garter spring helps maintain the pressure on the shaft.