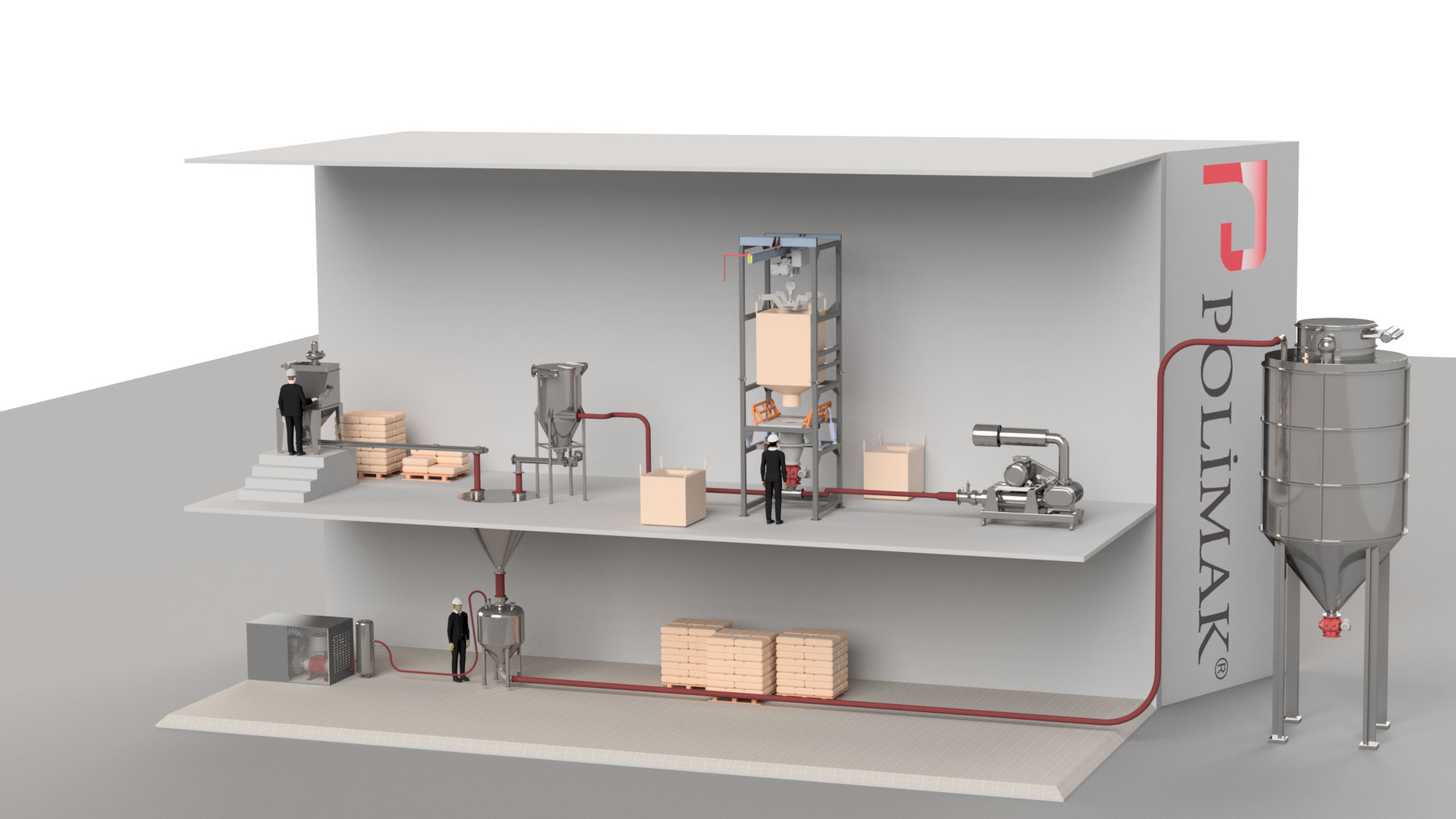 Pneumatic conveying systems are broadly used throughout bulk material handling industries to move dry bulk materials through a facility. They move the bulk material in a pipeline generally with air being used as a conveying agent. When it comes to utilising pneumatic conveying systems to transport dry bulk materials, facility owners find themselves in a position to of needing to make a choice between pressure conveying or vacuum conveying. In other operations, a combination of both, vacuum and pressure conveying systems may be the best solution. Ultimately, Polimak experts will have to consider what is feasible given the available resources and suggest which method will best suit the transportation of the bulk material.
The design, production and installation of pneumatic conveying systems for bulk materials require a great deal of know-how and long years of experience. Simple installation, low maintenance need, long years of problem-free service and endurance for harsh environments are key features of quality pneumatic conveying systems. Polimak brings pneumatic conveying solutions and expertise to a variety of industries including chemicals, food, plastics and cement. A well designed pneumatic conveying system is a practical and cost-effective method of transporting dry bulk materials from one point to another.
Types of Pneumatic Conveying Systems
There are several ways to pneumatically transport dry bulk materials and the key difference in each method is the conveying phase. Conveying phases are modes of how dry bulk materials being conveyed through a conveying pipe. Pneumatic conveying phase mode can be categorised into two, the dilute phase and the dense phase.
Dilute Phase Pneumatic Conveying
Dilute phase pneumatic conveying systems, also known as lean phase conveying systems, involve the transportation of dry bulk materials at velocities above the saltation velocity. These systems generally use air entry pressures below 1bar to move dry bulk materials through conveying pipelines at relatively high velocities. Bulk material particulates are wholly suspended within the airstream throughout the conveying pipe in dilute conveying systems. The material transfer within the system is described as low pressure high velocity, hence the name "low pressure systems". The particle velocity is paramount in these systems because it affects the material end product, very low velocity may result in the material collapsing to the bottom of the pipe from the airstream and very high velocity may cause particle-to-particle collision and particle-to-wall collision resulting into bulk material degradation. The two methods that can be performed are dilute phase pressure conveying and dilute phase vacuum conveying.
Dilute phase conveying systems are the most common pneumatic conveying systems used in many bulk material handling industries to transport bulk solids. These systems are ideal for transporting non-abrasive bulk materials, products with low bulk density and bulk materials that are hard to break. Some of the dry bulk materials that can be processed using dilute phase pneumatic coveying systems include sugar, flours, pellets, chemicals, polymers (resins and compounds), calcium carbonate, cement and coal dust.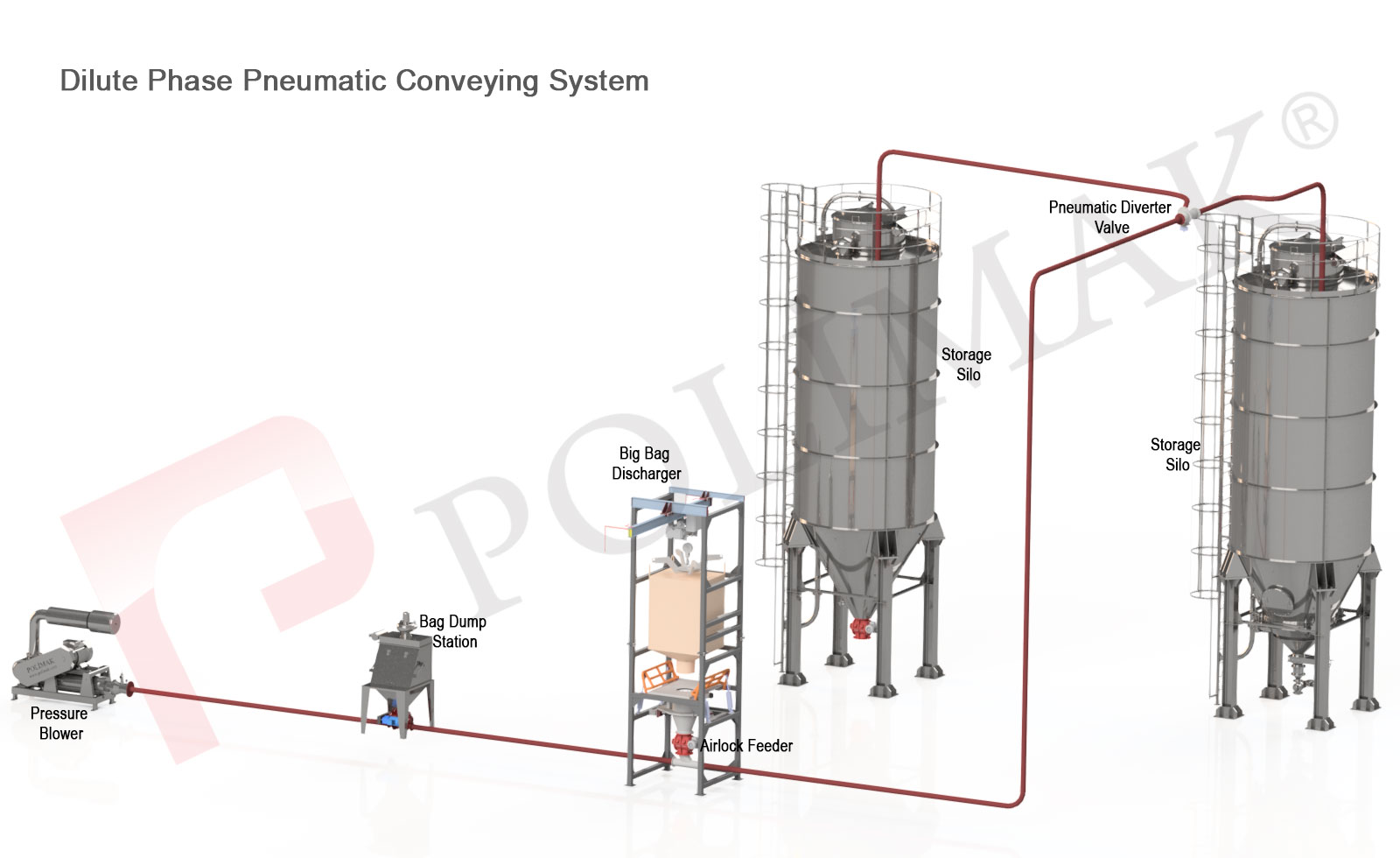 Dense Phase Pneumatic Conveying
Dense phase conveying systems are pneumatic conveying systems that utilise relatively low velocity gas and rely on high pressure differential, positive or negative, to transport dry bulk materials in pipelines. The velocities in these systems are typically below the saltation velocity. Dense phase pneumatic conveying systems can be referred to as high pressure conveying systems. Low velocities within these systems result in a gentle and efficient transfer of bulk materials. Dry bulk materials move with less wear and impact inside a conveying pipeline and their flow (dense phase transfer form) generally occur in two forms, plug flow or dune (wave) flow. Dense phase transfer form is primarily dependant on the nature of the bulk material and the configuration of the plant. This type of pneumatic transport system is ideal for most abrasive, friable, fragile and mixed-batch dry bulk materials. The two methods that can be performed are dense phase pressure conveying and dense phase vacuum conveying.
These systems are used across many different bulk handling industries to convey bulk products. Higher conveying rates and longer conveying distances are often possible with dense phase conveying systems. Some of the handled bulk materials include sand, limestone, gypsum, fly ash, cement, CaCo3 and many more.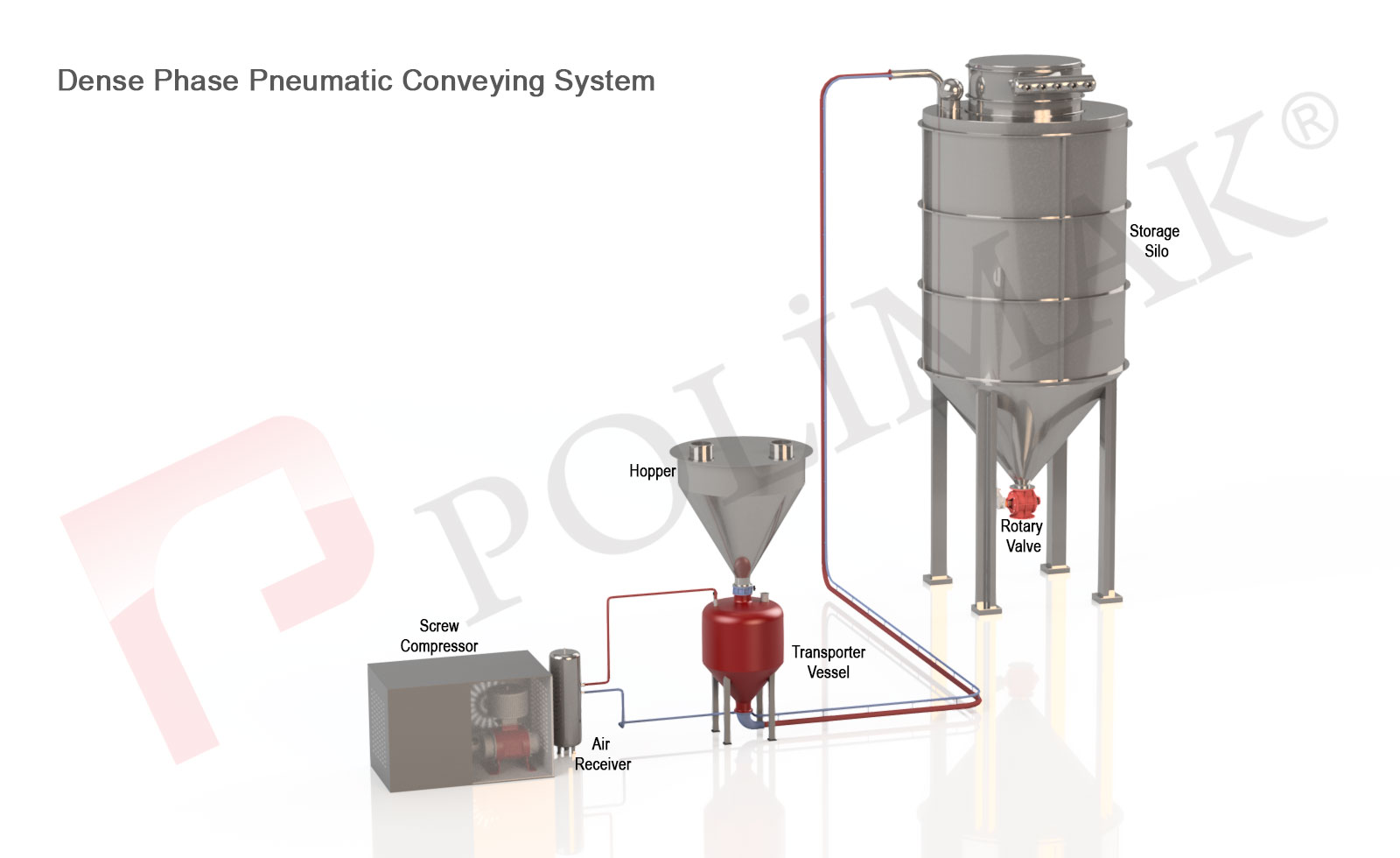 Pneumatic Conveying Systems Industrial Application
Most bulk material handling industries make use of mechanical conveying systems to handle their dry bulk materials. Industries such food processing industries, pharmaceutical industries and chemical industries need to maintain high levels of hygiene throughout the handling processes of bulk materials. The use pneumatic conveying systems help industries maintain high levels of hygiene during material processing.
Power and Energy Industry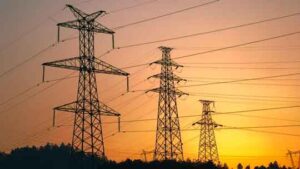 Pneumatic conveying systems are extensively utilised in coal-fired power plants to transport fly ash in its dry form. Glassy droplets of as are produced during the burning of coal. Fly ash is one of the residues produced during coal combustion and comprises fine particles. Pneumatic conveyors offer an ideal choice for handling dry fly ash. Fly ash from various hoppers is evacuated using pneumatic conveying systems up to an intermediate silo.
Designing reliable systems (pneumatic conveyors) is not a trivial task, it necessitates a considerable amount of knowledge of the characteristics of the handled product and the intricate solids-gas-pipe wall interaction. Poorly built systems may result in significant losses in terms of increased energy consumption, decreased delivery, and premature wearing of hardware among other things. Polimak provides versatile, robust and low-maintenance fly ash conveying systems that offer dustless operations and can handle high temperatures.
Cement Industry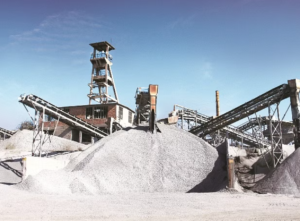 Cement is an essential element wherever things are being built, hence the cement industry plays an important role in construction operations as it is responsible for supplying the raw material cement. Pneumatic conveying systems are vital in this industry when it comes to effectively transporting cement in various facilities. Several pneumatic conveying (pressure conveying or vacuum conveying) technologies can be utilised to transfer cement. Finding the appropriate solution for your application can pay dividends, particularly in terms of lowering energy consumption in your plant. Polimak's qualified and experienced engineers help its clients come up with efficient cement conveying equipment for a specific application. We offer innovative pneumatic technologies for broad cement handling processes.
Mining Industry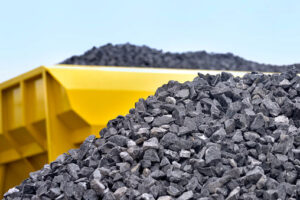 Coal mining is one of the mining sectors that utilise pneumatic conveying systems for handling various raw materials including rock dust (usually pulverised limestone). Both dilute phase and dense phase pneumatic conveying systems are applicable in the mining industry.
With the growth of the mining industry, Polimak has taken up an opportunity to supply quality pneumatic conveying systems to this industry. Our products are extremely versatile, reliable and durable even under the most challenging operating conditions. We take pride in offering high-quality pneumatic conveyors suitable for the mining industry to ensure efficient and safe transportation of dry bulk materials within pipelines.
Food Industry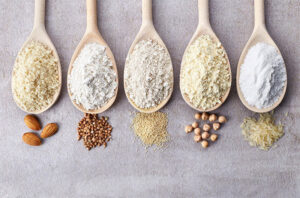 Food production is one of the world's largest, most diverse and important industries. The food industry is a huge industry that consistently requires higher hygiene and efficiency during bulk material processing. Pneumatic conveying systems provide hygienic and flexible material handling processes. A broad variety of food products such as sugar, rice, corn, spices, grains, cereal, flour and animal feed can be transported using pneumatic conveying mechanisms. The design and production of pneumatic conveying systems and experience-based engineering solutions for any type of bulk material is a challenge. Polimak provides complete solutions of pneumatic conveyors for use in the food industry.
Chemical Industry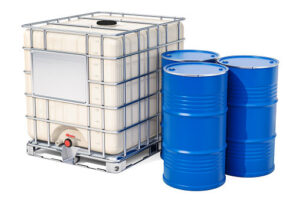 The chemical and petrochemical industry is one of the prominent sectors that make use of pneumatic conveying systems to move chemicals through enclosed pipelines from a single or multiple source(s) to a single or multiple destination(s). With the rising usage of virgin polymers in several products, the petrochemical industry is required to generate building block ingredients for the majority of chemicals in large quantities. Bulk materials in this industry may be dangerous, hence the containment of the materials is very crucial to prevent cross-contamination, reduce explosion risks and protect the environment by combating dust emissions.
Plastics Industry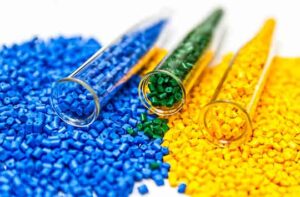 Plastics and polymers industries produce and export a broad range of raw materials and pneumatic conveying systems are suitable for moving plastic pellets and materials in powdered form. Processes such as blending, mixing, extruding and moulding are performed in the plastics industries. Pneumatic conveying systems can be used to feed extrusion machines and mixing machines.
Bulk Material Conveying
Bulk materials do not pass through fast-moving parts in pneumatic conveying systems unlike other mechanical systems such as belt conveyors, screw conveyors, vibrating conveyors, drag conveyors, bucket elevators, etc. In this way, most contaminations/damages to the transported dry solids are prevented. Some of the dry bulk solids transported with pneumatic conveyors include sugar, spices, salt, flour, maize corn, popcorn, coffee beans, sand, limestone, cement, coal, gypsum, plastic pellets, plastic powders, calcium carbonate and many more.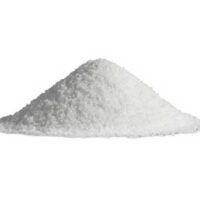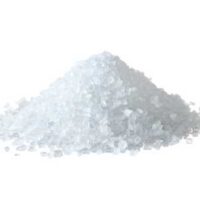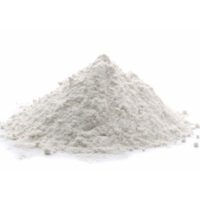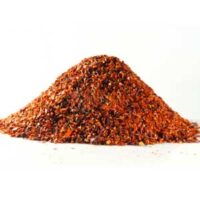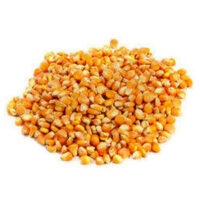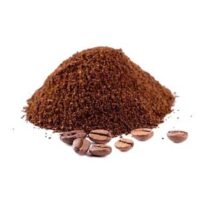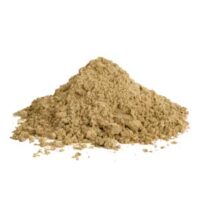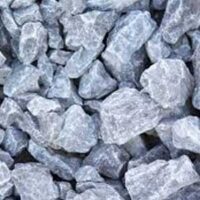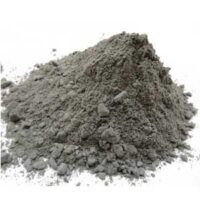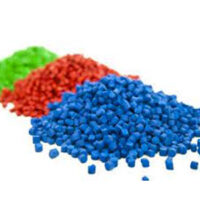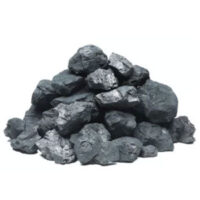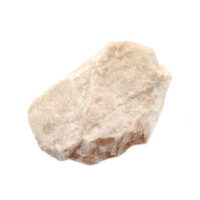 Pneumatic Conveying Systems Advantages
Pneumatic conveying systems provide numerous benefits to users including the following:
They can run long distances and the conveying pipes can be installed vertically or horizontally.
Materials are conveyed in a closed pipeline. In this way, conveyed materials stay clean and dust leakage to the atmosphere is prevented.
Because of their compact design, it's easy to integrate pneumatic conveying systems around existing equipment, making them more versatile than mechanical systems.
A pneumatic system can convey a product at any place a pipeline can run.
These systems do not occupy a lot of space.
Pneumatic conveying systems have a few main parts such as a pump/blower, pipeline, feeding device etc., and all parts can be repaired independently, so, they are easy to maintain.
Pneumatic Conveying Systems FAQ
What is a pneumatic conveying system?
A pneumatic conveying system or simply a pneumatic conveyor is a system used to convey dry bulk materials through pipelines by using the flow of air or any other suitable gases. Bulk materials in different forms such as powder, granule or pellet can be pneumatically conveyed. Pneumatic conveying systems can be built as pressure conveying systems or vacuum conveying systems. In some applications, a combination of the aforementioned systems is possible.
What is pressure pneumatic conveying ?
In pressure pneumatic conveying systems, air is used to push against the bulk material being conveyed, hence these systems are considered to be positive pressure systems. Pressure pneumatic conveyors are best used where the bulk material is to be conveyed from a single feeding point to multiple delivery points. These systems are generally preferable when conveying materials at longer distances and high throughputs.
What is pneumatic vacuum conveying ?
Vacuum conveying systems are used to convey bulk materials through a network of pipelines by suction, hence these systems are considered to be negative pressure systems. Vacuum pneumatic conveyors are best used where the bulk material is conveyed from multiple feeding points to a single delivery point. These systems are also prefered for conveying dry bulk solids that tend to plug or pack in positive pressure systems.
What is combined vacuum and pressure pneumatic conveying ?
Combined vacuum and pressure pneumatic conveying is simply the transportation of bulk materials from one point to another by utilising vacuum blower packages and pressure blower packages. A combination of vacuum and pressure pneumatic conveying systems can be applied in several bulk handling facilities. Vacuum conveying and pressure conveying systems are interconnected and can be operated simultaneously.
How does a pneumatic conveying system work ?
Pneumatic conveying systems work according to the principle of pneumatic conveyance. The principle of pneumatic conveyance is based on the concept that bulk materials can be transported through a pipeline by using a gas (air). The moving air exerts a propulsion force on the bulk material causing it to propel along the conveying pipeline. A pressure difference between the beginning and the end of the pipeline is always required for a pneumatic conveying system. Blowers or compressors can be used to overcome the pressure differential.
What is plug flow and dune flow ?
Plug flow and dune flow (also referred to as wave flow) are two distinct flow patterns of dry bulk materials flow through a conveying pipeline in a dense phase pneumatic conveying system. The bulk material fully fills the conveying pipeline during a plug flow pattern and it moves along with air gaps between each plug. In a dune flow pattern, bulk material particulates begin to settle out on the pipe wall forming dense flow regions with patterns like sand dunes.