Pneumatic Conveying Systems
Design, production and installation of pneumatic conveying systems for bulk materials requires a great deal of know-how and long years of experience. Simple installation, low maintenance need, long years of problem free service, endurance for harsh environments are key features of these systems. Polimak brings pneumatic conveying solutions and expertise to a variety of industries including steel, chemicals, food, plastics and cement. Wide range of systems and accessories are available depending on process parameters and site conditions.
What is a Pneumatic Conveying System ?
A pneumatic conveying system is a process by which bulk materials of almost any type are transferred or injected using a gas flow as the conveying medium from one or more sources to one or more destinations (silo, hopper, ground, truck, bag, bigbag, etc.)
A well designed pneumatic conveying system is a practical and a cost efficient method of transporting materials from one point to another. In these systems, materials do not pass through fast moving parts unlike some other mechanical systems (belt conveyors, screw conveyors, vibrating conveyors, drag conveyors, bucket elevators, etc.). In this way, any damage to transported products are prevented . That is the reason it is preferred by many industries to ensure their resources and products are safely transferred.
Dilute Phase Conveying
Dilute phase pneumatic conveying is described as the process of pushing (pressure) or pulling (vacuum) particles in air from one location to another. The particles are transferred continuously at a low pressure and a high velocity. Products commonly conveyed in dilute phase systems are flours, resins and compounds, special chemicals, ground feeds, and granular and pelletized products.

Dilute-Phase Pressure Conveying
In pressure conveying systems, pumps like positive displacement roots blowers are used to supply pressurized air up to 1 bar to convey bulk materials. Rotary airlocks, venturi eductors and similar equipment used to feed the material into the pipeline. The franular or powdered particles are then transferred continuously at a low pressure and a high velocity. Dilute phase pressure conveying sysems are one of the most used systems in pneumatic conveying.
Dilute-Phase Vacuum Conveying
This method is generally used to convey materials that are eligible to compact or compress together under pressure. In this type, the vacuum pump is placed at the end of the pipeline to ensure the suction. In addition, the materials to be transferred can be vacuumed from ground, stockpile and open trucks by this method.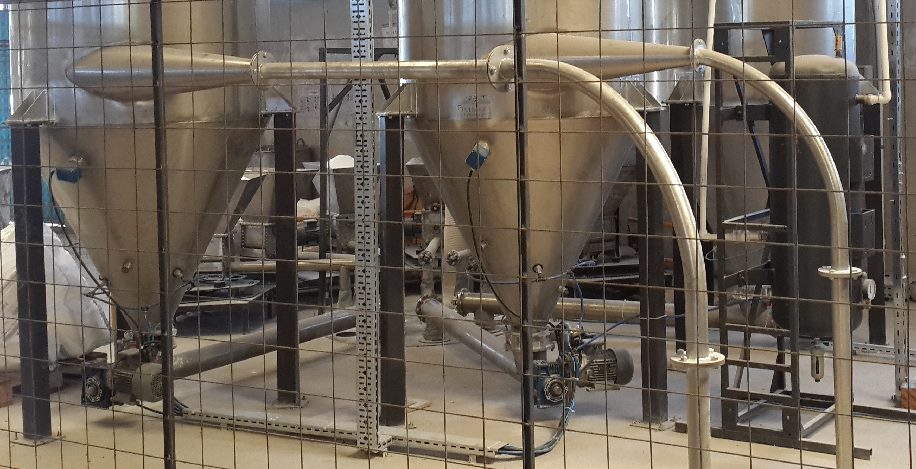 Dense Phase Conveying
Dense Phase Pneumatic Conveying is a method for moving difficult, abrasive or fragile materials, at slow speeds. It pushes material along an enclosed pipe, using small amounts of air, at a low velocity but high pressure. The low velocity of dense phase conveying allows less abrasion on the materials to be conveyed and the system. Efficient use of gas also ensures low power consumption and operating costs. Products commonly conveyed in dilute phase systems are cement, chemicals, coal, food, agriculture, lime and limestone, minerals, pet food, metals etc.

Dense-Phase Pressure Conveying
This method is commonly used to convey abrasive or fragile materials. Material conveyed by this method is loaded into a pressure vessel at first place. The compressed air transfer the material from vessel to the destination along the pipeline. After conveying all materials from the vessel, the whole process restarts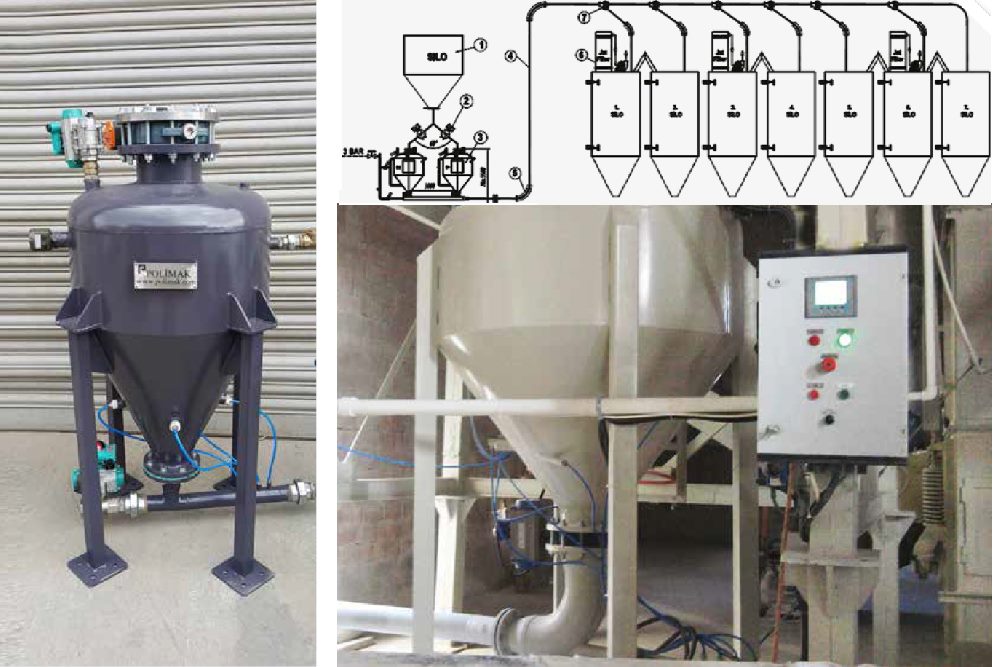 Dense-Phase Vacuum Conveying
This type is used to convey abrasive or fragile materials gently over short distances. This system utilizes low air flow and high vacuum pressure. This is mostly used to convey fragile products to prevent degradation.
Advantages of Pneumatic Conveying Systems
The aim of these systems are to ensure the transfer of materials with less harm.
Materials are conveyed in a closed pipeline. In this way, conveyed materials stay clean and dust leakage to atmosphere is prevented.
A pneumatic system can convey a product at any place a pipeline can run.
These systems do not occupy a lot of space.
Pneumatic conveying systems have a few main parts (pump, feeding device, pipes etc.) and all parts can be repaired independently, so, they are easy to maintain