Rotary valves are essential for most of the industrial systems including the pneumatic conveying systems. The design, and composition are both solely dependent on its function. Some of the most commonly used models include; flow through (FT) series, blow through (BT) series, and offset (OS) series.
Flow Through (FT) Series
This is the most basic and common valve. It is also known as the drop-through rotary valve. The bulk material is supplied to the valve through the inlet port to the pockets, then transported through blades and exits right through the outlet port to the conveying line. This model is widely used for non-cohesive and free-falling materials like sand, wheat, rice, coffee beans etc. The cleaning of the valve is easier because the inside can be reached without the conveying line being dismantled.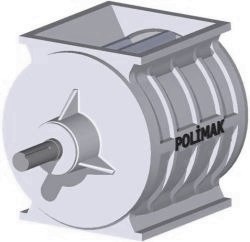 Blow through (BT) Series
Unlike the drop-through valve, the blow-through valve has a sealed bottom. It does not contain an exit flange like that of the FT valve, instead it has a trough where the pneumatic conveying line connects. The feed is supplied to the valve via the inlet port, then the rotor turns and drops the feed into the trough where it is blown out into the conveying line. It is suitable for more cohesive materials like flour, milk powder, custard etc.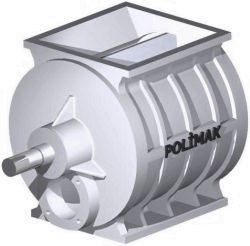 Offset Series
The offset rotary valve is designed to make sure that the filling efficiency is never 100%. This configuration is set to minimize product shearing. It is used for materials like sunflower seeds and peanuts.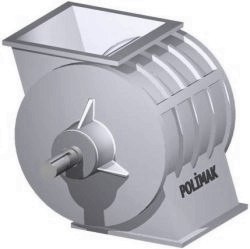 CUSTOM DESIGNED ROTARY VALVE MODELS
Unique customer demands call for uniquely designed rotary valves. Custom designed products answer this call. Polimak makes possible the production of customized rotary valves aside from the standard rotary valves. Custom engineered rotary feeders are available in blow through, flow through and offset housing configurations. Our engineering team is capable of discussing the feed rates and the material's characteristics to help select ideal housing size, rotor, drive system and seals that will ensure effective operations. Polimak is able to design and manufacture rotary feeders for customized applications in a short period of time.